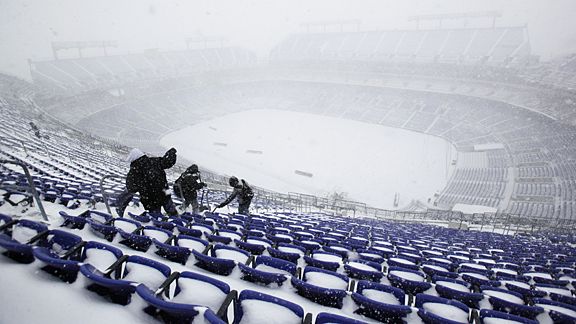 AP Photo/Rob Carr
Don't let all of the snow fool you - it's been a lot colder before.
January 10, 1982: Long underwear was en vogue at the coldest game in NFL history when the Cincinnati Bengals defeated the visiting San Diego Chargers 27-7 to win the AFC Championship. The temperature in Cincinnati at kickoff of the "Freezer Bowl" was -9 degrees Fahrenheit, with a wind-chill factor of -59.
San Diego coach Don Coryell, accustomed to the mild weather of southern California and the humidity in Miami the previous week, paced his team's sidelines wearing a ski mask while trying to stay warm. At the same time, Coryell took the concept of the intimidating head football coach to a whole new level.
The NFL games later today will be considered warm by comparison with expected game time temperatures of 22 degrees Fahrenheit in Foxboro, MA and a balmy 65 degrees Fahrenheit in Glendale, AZ.
The higher temperatures today should also limit any risk of weather-related injuries similar to the one suffered by Bengals defensive end Eddie Edwards back in the Freezer Bowl – he went home that day with a frostbitten left ear.