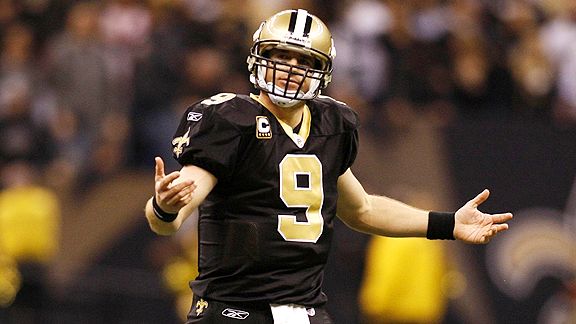 Photo: Chris Graythen/Getty Images
"Runner-up again? Does the back of my jersey say Buffalo Bills?"
Drew Brees: always an bridesmaidMVP-maid, never an MVP? For the second time in the past four seasons Drew Brees finished second in voting for the AP NFL Most Valuable Player award. Despite leading the NFL in passer efficiency rating (109.6), touchdown passes (34) and completion percentage (70.6), Brees was unable to dethrone Peyton Manning from MVP royalty. Brees garnered seven and a half votes to Manning's 39 ½ votes leading us to believe, much like Heisman campaigning, the majority of the AP voters never saw Brees' sushi commercial.
Brees understands the MVP award is not everything, but still seemed disappointed with the news. "Somebody can always come later on and take (a record) from you," Brees said. "Whereas nobody can ever take a league MVP or Super Bowl ring from you. Once you have that, that's something you have for life. Hey, would I love to win it at some point? Absolutely. Is it my number one priority? No."
Brees should note it took Susan Lucci 18 failed Emmy nominations before finally winning the coveted award in 1999. But for every Susan Lucci , there's a handful of people or animals who never quite got over the hump and continually finished in second place.
Shawn Kemp: The Reign Man lost in the finals of the NBA Slam Dunk Contest on two different occasions and was eliminated prior to the finals two other times. His best chance at winning came in 1991 after landing a double-pump foul line jam, but Dee Brown took home the award after slamming home a no-look dunk. Maybe Brees needs to try playing blindfolded?
Al Gore: Most people remember the 2000 election for the Florida vote recount, but people often forget Al Gore actually won the popular vote over George W. Bush. It marked the fourth election in U.S. history where the electoral vote did not reflect the popular vote. Brees would have felt a lot worse if he received more AP votes than Manning and still lost.
Alydar: Understanding horse psyche is not one of our strong suits, but the chestnut colt definitely had his share of barnyard cries. Alydar finished second to Affirmed in all three races of the 1978 Triple Crown by a combined total of less than two lengths. That's the football equivalent of losing three straight Super Bowls on missed field goals. No offense Scott Norwood.
Jason Alexander: Alexander was nominated for the Emmy Award for Outstanding Supporting Actor seven times between 1992-1998 for his portrayal of Seinfeld's George Costanza and always came up short (losing three times to co-star Michael Richards). If Brees lost three MVP awards to teammate Reggie Bush we'd have to start questioning if Brees was still master of New Orleans' domain.
Elgin Baylor: Seven times Baylor went to the NBA finals and seven times he left as a runner-up. Coincidentally, once Baylor retired due to injuries the Lakers won the NBA championship the following season. Talk about your poor timing.