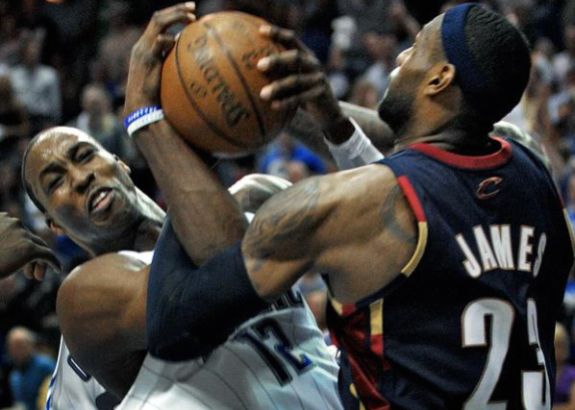 AP Photo/Phelan Ebenhack
"OK guys, this isn't in the script. From the top. Guys. Hey GUYS! Let's take five."
Is nothing sacred anymore? Well, the classic McDonald's H-O-R-S-E commercial with Larry Bird and Michael Jordan isn't — they're making a current version with LeBron and Dwight Howard. Actually, we're pretty pumped to see how a one-on-one contest between King James and Superman turns out. In fact, can McDonald's make a whole series?
May we suggest … .
Off the 2003 Draft Board, Nothing But Net
Let's keep LeBron, but pair him with his 2003 NBA draft class buddy Dwyane Wade. The two have been compared as saviors and kings of the NBA ever since they joined the league (LeBron has the MVP but D-Wade has the ring), so let's put them head to head, one on one. Of course, the commercial shoot will probably devolve to the two of them working out plays together in preparation for when they play together next year … .
Off Dwight's Shoulders, Nothing But Net
Now let's keep Superman, but pair him with the Little Dunker That Could, Nate Robinson. We have a feeling this one's going to turn into a dunk contest, so it seems like there's only two questions: will Nate be able to match Howard on a 12-foot hoop? And how will Dwight Howard leap over his own shoulders?
Off Three Larry O'Brien Trophies, Nothing But Net
They say they're on friendly terms, but can Shaq and Kobe last through a whole game of H-O-R-S-E and still keep it civil? We'd love to find out. Some ground rules would have to be set in place of course. For starters, no microphones anywhere near the court because we know Shaq couldn't help himself.
Off Roger Goodell's Bank Account, Nothing But Net
Why keep it with hoops? Let's see how the NFL's two most PR-loving receivers, Chad Ochocinco and Terrell Owens, do. We'd love to see how TO's best Sharpie routine fares against 8-5's best sombrero move. Not only can the two compete to see who has the best fine-worthy stunts, they'll both have a whole new bag of tricks when the 2010 season starts.
Off the Radar Gun, Nothing But Net
We'd like to see the two young Cy Young winners, Zack Greinke and Tim Lincecum, go pitch for pitch. At least, we'd like to see the two of them go pitch for pitch more than we'd like to see Lincecum and the creepy avatar version of himself go pitch for pitch.