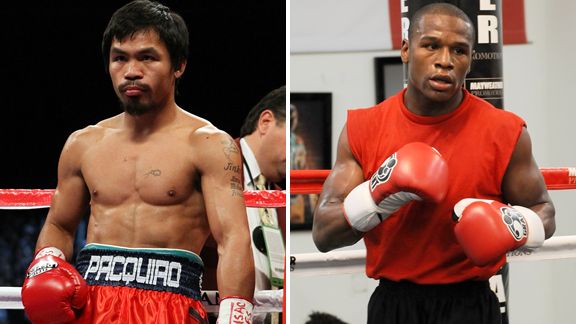 Getty Images
ESPN.com's Dan Rafael is reporting that Floyd Mayweather Jr. and Manny Pacquiao will still compete against each other on March 13, but not in the ring. Instead, they will be duking it out for pay-per-view buys.
Two days after Top Rank's Bob Arum, Pacquiao's promoter, announced plans for Pacquiao to defend his welterweight title against former titlist Joshua Clottey on March 13, Mayweather is making plans to fight on the same night.
While Pacquiao will face Clottey at Cowboys Stadium in Arlington, Texas, Mayweather will face an opponent to be determined at the MGM Grand in Las Vegas, Golden Boy Promotions CEO Richard Schaefer told ESPN.com on Sunday night.
Possible opponents of Mayweather below...
"It's a date Golden Boy has had for a long time and nothing has changed," Schaefer said. "We have been talking to Team Mayweather to see who the opponent will be. I hope to have something to announce in the next few days."
The MGM Grand was supposed to host the Pacquiao-Mayweather megafight before it broke up for good on Friday over a month-long dispute between the camps on the drug testing protocol for a bout that many believed would be the highest grossing fight in history.
According to sources, Mayweather's list of potential opponents includes former junior welterweight titlist Paulie Malignaggi and Golden Boy-promoted former lightweight titlist Nate Campbell, both smaller men than Mayweather, as well as former welterweight titlist Kermit Cintron, who is a similar kind of opponent as Clottey is for Pacquiao. There is also a more remote possibility of Mayweather facing junior welterweight titlist Timothy Bradley Jr.