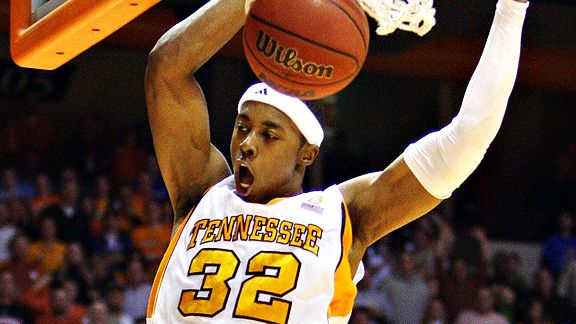 (Josh D. Weiss/US Presswire)
WHO WANTS TO PLAY?
Your 15th-ranked Volunteers needed a couple when they took on the top-ranked Jayhawks yesterday in Knoxville. Tennessee dressed six scholarship players. Tennessee played three walk-ons. And yet, somehow, Tennessee sent previously unbeaten Kansas home beaten. The Jayhawks were the fifth team in the Top-10 to lose this weekend - and each of the five lost on the road. That's the worst performance by anyone on the road since the ice hit Portland back in 2007.
More from The Rundown, including why you might confuse Rick Pitino with Steve Martin tonight and what Antrel Rolle has to say about facing Drew Brees, after the jump.
WARDROBE MALFUNCTION FUNCTIONS WELL
Louisville plays host to No. 6 Villanova (7:00 pm ET on ESPN) while also playing host to another "White Out" inside Freedom Hall. Your Cardinals have won the previous three "White Out" games, and in each of the last two years, they've knocked off top 10 opponents (No. 10 Marquette in 2009, and No.6 Georgetown in 2008).
"I don't ever want to face him again in my life. I am dead serious. I'll face Drew Brees any day of the week before I face him again."
- Arizona's Antrel Rolle is talking about facing Aaron Rodgers yesterday. And he'll be happy to know that this Saturday is the day of the week he'll face Drew Brees.
We'll face you every day of the week. Well, every weekday anyway. It's called the SportsCenter Rundown and it will hit your inbox before you hit your corn flakes each morning. Part of this complete breakfast. Sign up for it here.