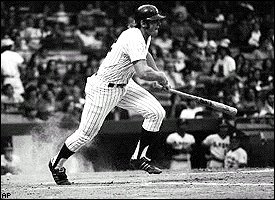 Ron Blomberg would go on to become the first DH later that year, paving the way for Big Papis of the future.
January 11, 1973 – Commissioner Bowie Kuhn presided over a baseball summit between the American and National leagues allowing the AL to put the designated hitter in play. Rule 6.10 became the most dramatic change to the game since 1903 when foul balls were first counted as strikes.
In the early 1970's the AL lagged the NL in offense and attendance. Although Connie Mack was the first to suggest the addition in 1920, it took lobbying spearheaded by Oakland owner Charlie Finley to make it a reality.
The DH has extended the playing time of many players, including Harold Baines and Hall of Famer Paul Molitor. It's also shortened the lifespan of thousands of baseball purists who've developed high blood pressure from decrying the position as heretical.
Major League Baseball's annual trophy for Outstanding Designated Hitter is called the Edgar Martinez Award, which may end up being the former Mariner's consolation prize for not being able to win over the BBWAA.