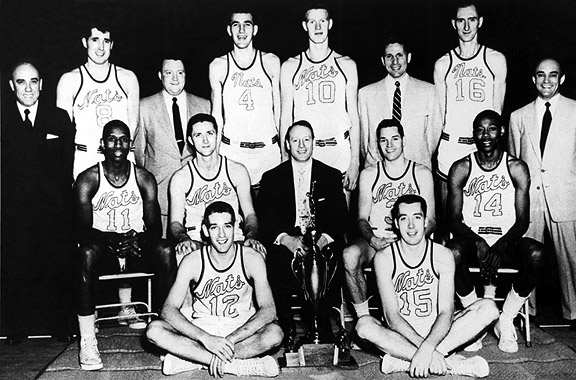 Photo by NBAP/ NBAE/ Getty Images
That's not Michael Phelps in the back row wearing number 4 - that's Dolph Schayes.
January 12, 1958: Twelve-time NBA All Star Dolph Schayes set a then-record career scoring mark with 11,770 points while playing for the Syracuse Nationals.
While this total is much lower than the current-record 38,387 points put up by Kareem Abdul-Jabbar, Dolph gets extra credit for his degree of difficulty. First, Dolph played most of an entire season with his broken shooting arm in a cast. And second, Dolph was one of the last players to shoot hoops like James Naismith – with both feet planted solidly on the ground and two hands gripped on the ball.
After setting the NBA career scoring record, Dolph went to bed, got up, put on his short-shorts, and went straight back to work. He surpassed 15,000 points two years later to the day on January 12, 1960 and finished his career with a total of 18,438 points.
No wonder he was selected as one of the 50 Greatest NBA players of all time.