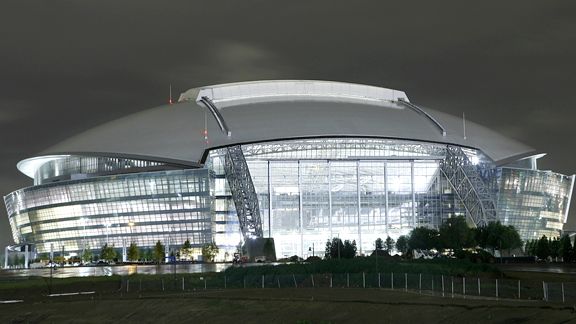 AP Photo/Tony Gutierrez - Arlington, Texas, Cowboys Stadium - One of the 32 stadiums still in contention for the U.S. 2018/2022 World Cup bid.
By Paul Carr, ESPN Stats and Information Group
Today at 3:30 ET on ESPNEWS, U.S. Soccer will announce the 18 cities that will be included in the United States' bid to host the World Cup in 2018 or 2022. The United States previously hosted the World Cup in 1994.
The list of potential American host cities began last April with 70 venues and was narrowed to its current size of 27 cities and 32 venues in August of last year. Being one of the 18 finalists does not guarantee that a city will host World Cup matches. The list of 18 will likely be trimmed to about 12 prior to the event.
The United States' official bid is due to FIFA by May 14. There are 10 candidates total, including two joint bids, and two countries that are only bidding for the 2022 World Cup. FIFA will announce the host countries for both the 2018 and 2022 World Cups on December 2. The same continent cannot host both tournaments. Africa and South America are ineligible due to hosting the 2010 (South Africa) and 2014 (Brazil) tournaments.
After The Jump: See the countries bidding for the 2018 and 2022 World Cup. Plus, the 27 metro areas and 32 stadiums still in contention for the 2018/2022.
Countries Bidding for 2018 & 2022 World Cups (Previous World Cups hosted)
Australia
England (1966)
Indonesia
Japan (2002 co-host with South Korea)
Russia
United States (1994)
Netherlands & Belgium
Portugal and Spain (1982 Spain was sole host)
Qatar**
South Korea **2002 (co-host with Japan)
Note: **Only bidding for 2022 World Cup
Countries to Host Two World Cups
Germany 1974, 2006
France 1938, 1998
Mexico 1970, 1986
Italy 1934, 1990
Why would FIFA want to give the United States another World Cup? Aside from expanding the game's popularity, the simple answer is money. With up to 8 stadiums that can hold over 80,000 each, the United States has more enormous venues than any other country. 1994 is still the best-attended World Cup, both in average and total attendance, even though the tournament expanded to 64 matches in 1998. With more huge stadiums available now, a United States tournament in 2018 or 2022 would certainly shatter all records.
Nine stadiums hosted games in 1994. All nine metro areas are in contention to be finalists again, although the venues are new for Detroit, Dallas, Boston, New York. Washington also has an additional stadium, while Soldier Field has since undergone drastic renovations.
Host Stadiums and Metro Areas, 1994 World Cup
Pontiac Silverdome, Detroit
Rose Bowl, Los Angeles
Stanford Stadium, San Francisco
Soldier Field, Chicago
Cotton Bowl, Dallas
Foxboro Stadium, Boston
Giants Stadium, New York
RFK Stadium, Washington
Citrus Bowl, Orlando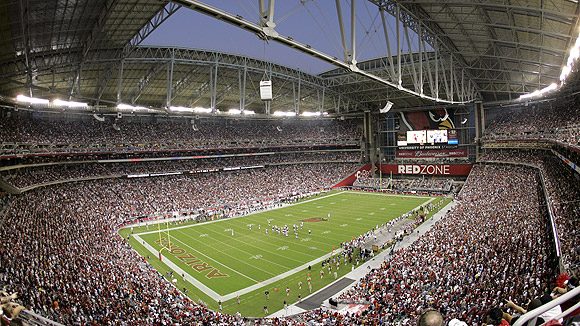 Photo: Scott Boehm/Getty Images University of Phoenix Stadium One Cardinals Drive, Glendale, AZ
Here are the 27 metro areas and 32 stadiums still in contention for the 2018/2022 bid:
Metro Market/City Stadium Capacity
Atlanta - Georgia Dome 71,250
Baltimore - M & T Bank Stadium 71,008
Boston - Gillette Stadium 71,693
Charlotte - Bank of America Stadium 73,778
Chicago - Soldier Field 61,000
Cleveland - Cleveland Browns Stadium 72,000
Dallas - Cotton Bowl 89,000
Dallas - Cowboys Stadium 100,000
Denver - INVESCO Field 76,125
Detroit - Ford Field 67,188
Detroit - Michigan Stadium 108,000
Houston - Reliant Stadium 71,500
Indianapolis - Lucas Oil Stadium 64,200
Jacksonville - Jacksonville Municipal Stadium 82,000
Kansas City - Arrowhead Stadium 77,000
Los Angeles - Los Angeles Memorial Coliseum 93,607
Los Angeles - Rose Bowl 92,000+
Miami - Dolphin Stadium 75,540
Nashville - LP Field 69,143
New York/N.J. New - Meadowlands Stadium 82,000
Oakland - Oakland-Alameda County Coliseum 63,026
Orlando - Florida Citrus Bowl 65,616
Philadelphia - Lincoln Financial Field 67,594
Phoenix/Glendale - University of Phoenix Stadium 71,000
San Diego - Qualcomm Stadium 70,500
San Francisco - Stanford Stadium 50,500
Seattle - Qwest Field 67,000
Seattle - Husky Stadium 72,500
St. Louis - Edward Jones Dome 67,268
Tampa - Raymond James Stadium 65,856
Washington, D.C. - RFK Stadium 45,600
Washington, D.C. - FedExField 91,704