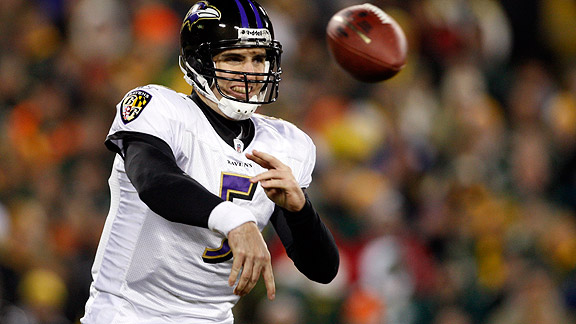 Photo: Jerry Lai/US Presswire
"I should have wished for less defenders when I blew out those candles."
Joe Flacco faces the Colts at 8 ET with a 3-1 record as the Ravens postseason starter. The 6'6'' Ravens quarterback has already totaled the same number of playoff wins as Warren Moon and Dan Fouts and more than Super Bowl III winner Joe Namath (2). All three of Flacco's victories have come on the road, but Indianapolis has been anything but friendly to the Ravens over the last two seasons. In their last two games versus the Colts, the Ravens have failed to score a touchdown and Flacco has thrown four interceptions. This sets up quite the predicament for Flacco and company being that Peyton Manning is tied for the most 300-yard passing games in NFL history (6) and Flacco will likely have to take to the air to keep up. Flacco should definitely go back to the shooting range for a tune-up.
Coincidentally, Flacco turns 25 today. We know he'll be wishing for a win when he blows out the candles on his Tom Selleck birthday cake, but we wanna know how he's going to celebrate after Saturday night's game. If the Ravens win will he be hosting a "dress as your favorite athlete" party in downtown Indy? And if so, will Flacco give us an encore presentation of his Michael Phelps costume? What about if the Ravens lose? Would Baltimore just order in a bunch of Flacco's Favorites for his birthday and drown their sorrows in cheese and anchovies?
Regardless of the game's outcome, the only guaranteed winners are Baltimore historians. They have the option of rooting for either Indianapolis, formerly the Baltimore Colts, or their current club, the Ravens. If we could make one recommendation for tonight's game, it's stay away from Baltimore historians; nobody likes to watch a game with fair-weather fans.