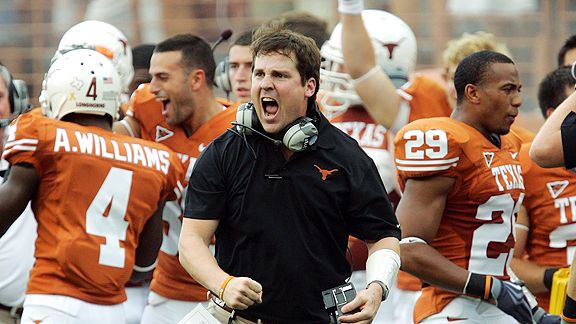 (Brian Bahr/Getty Images)
WILL WILL NOT
Will Muschamp is the defensive coordinator for the Texas Longhorns. He had trouble stopping Alabama a couple of weeks ago, but had no trouble stopping their SEC rivals at Tennessee right in their tracks. He has squashed the hopes of Vols fans everywhere who wanted him to give up his head-coach-in-waiting title in Austin for their head-coach-in-the-now title in Knoxville. He tells the Dallas Morning News, "I'm happy at Texas and plan to be here for a long time."
More from The Rundown, including Satan breaking a jaw in the NHL, which is where cheating could soon spread from country music, after the jump.
SATAN BREAKS SELANNE'S JAW
Not that one, the other one. (Let's start over.) Anaheim's Teemu Selanne is a 10-time All-Star and a three-time NHL goal-scoring champion who was planning on competing for Finland in his second Olympics next month in Vancouver. He was not planning on a slap shot from Ryan Whitney deflecting off the stick of Boston's Miroslav Satan and bouncing up into his face to fracture his jaw. He was playing in just his third game after missing the previous 17 with a broken hand. He's now expected miss another four to eight weeks. Which apparently now makes Selanne as breakable as the world's first unbreakable phone.
MAYBE HE'LL START CHEATING
Someone once said that a man is only as good as the woman on his arm. That someone may have been my wife. (Don't know, wasn't listening.) Which brings us to Mike Fisher of the Senators and Carrie Underwood of the country music. Those two got engaged to each other back on December 20th. In the 33 games Fisher played up to that point this season, he put up 15 goals and 14 assists. And in the 12 games since, he's yet to score a goal and only has three assists. So good news for your Rangers, who host the Senators tonight at The Garden. (7:00 pm ET)
We never cheat. We'll get you The Rundown bright and early every morning. Check your inbox. It's probably there already. And if it's not, then you haven't signed up for it yet. Why haven't you signed up for it yet? All you have to do is click here.