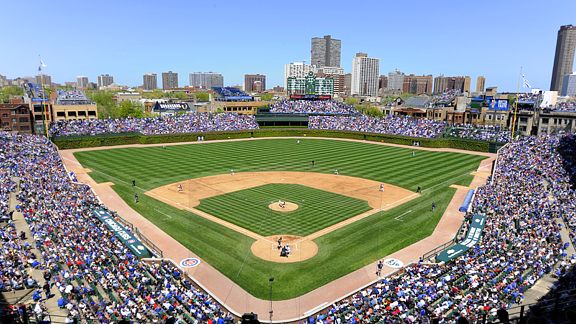 Photo: Ron Vesely/Getty Images
Should pickles really be an ingredient in a standard Chicago dog?
Taking a cue from the 2009 NHL Winter Classic, Northwestern Football is planning a field trip of their own to Wrigley Field. According to the Chicago Tribune, Northwestern's quest to host a football game at the Friendly Confines took a major step in becoming a reality when the field's dimensions were deemed fit to accommodate 22 players and two sidelines. With safety issues now resolved, NU and the Cubs only have a few matters left to sort out: TV rights, Big Ten and NCAA issues, the decision on whether to serve alcohol at the game, and ways to keep any billy goats very far away from the Wildcat.
Jim Phillips, Northwestern's athletic director and point man for the possible game, was also the athletic director at Northern Illinois back in 2007 when the Huskies faced the Iowa Hawkeyes at a sold out Solider Field. Phillips believes the game at Wrigley would echo the same success and is so fired up he's already eying an opponent. "We are continuing a dialogue with Illinois," Phillips said. "Within the next month or so, we'll decide if it's something that can work. There are a lot of moving parts, but it's something I will pursue aggressively." The last time someone was this excited to take the field at Wrigley was back in 1961 when doe-eyed rookie, Mike Ditka, and the Bears marched out onto their former stomping ground.
Phillips told the Tribune he'd like to have the Northwestern versus Illinois game at Wrigley in the next two to three years, but with that comes a lot of planning. In addition to the logistics, there's a number of lingering questions that are going to need to be answered. For instance:
- What happens to ivy after it gets painted purple and orange?
- Should Juan Pierre perform his hit single "I go to Wrigley Field, I got the Wiggly Feel" at halftime?
- Who's going to sing "Take Me Out to the Ball Game" during the third quarter stretch?
- With over 100 Div I-A football schools, what are the chances of getting either a new scoreboard or a lot more hands to keep track of the other games?
- Do the Olympic Committee and U.S. Soccer Federation deserve complimentary tickets to the game after snubbing Chicago for the 2016 Olympics and the 2018 and 2022 World Cup?