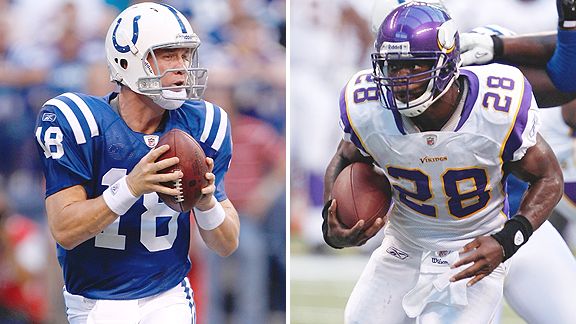 Photo: Getty Images - Colts Peyton Manning #18, Vikings Adrian Peterson #28
Today, the Associated Press unveiled the 2009 NFL All-Pro team. The NFL's Offensive Player Of The Year - Chris Johnson was the only unanimous selection to the All-Pro team. The Titans back who ran for over 2000 yards this season didn't get a single vote for MVP.
In all, there were 15 AFC players and 12 from the NFC selected. Hopefully, a player from your favorite team made the cut, because 15 teams had no All-Pro players this season including: The New York Giants, Washington Redskins, Atlanta Falcons, Carolina Panthers, Tampa Bay Buccaneers, Chicago Bears, Detroit Lions, Seattle Seahawks, St. Louis Rams, Miami Dolphins, Buffalo Bills, Jacksonville Jaguars, Cincinnati Bengals, Kansas City Chiefs and Pittsburgh Steeelers- better luck next year boys.
AP All-Pro First Team Offense (First Team All-Pro Selections)
QB Peyton Manning, Colts (NFL MVP) (5th)
RB Chris Johnson, Titans (1st)
RB, Adrian Peterson, Vikings (3rd)
FB Leonard Weaver, Eagles (1st)
TE Dallas Clark, Colts (1st)
WR Andre Johnson, Texans (2nd)
WR Wes Welker, Patriots (1st)
OT Ryan Clady, Broncos (1st)
OT Joe Thomas, Browns (1st)
OG Steve Hutchinson, Vikings (6th)
OG Jahri Evans, Saints (1st)
C Nick Mangold, Jets (1st)
PK Nate Kaeding, Chargers (2nd)
Return Joshua Cribbs, Browns (2nd)
After the jump: AP All-Pro First Team Defense
AP All-Pro First Team Defense
DE Jared Allen, Vikings (3rd)
DE, Dwight Freeney, Colts (3rd)
DT Jay Ratliff, Cowboys (1st)
DT Kevin Williams, Vikings (5th)
OLB Elvis Dumervil, Broncos
OLB DeMarcus Ware, Cowboys
ILB Patrick Willis, 49ers (2nd)
LB Ray Lewis, Ravens (7th)
CB Charles Woodson, Packers (3rd) (Defensive Player of the Year)
CB Darrelle Revis, Jets (1st)
S Darren Sharper, Saints (4th)
S Adrian Wilson, Cardinals (3rd)
P Shane Lechler, Raiders (6th)