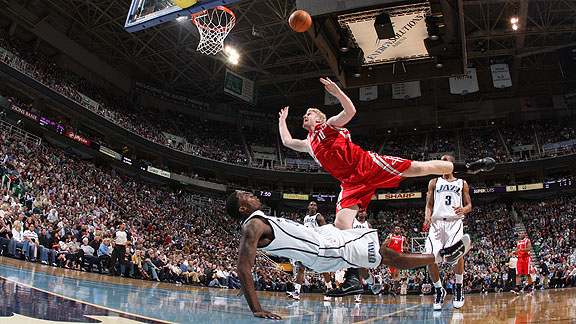 Photo: Melissa Majchrzak/NBAE/Getty Images
Will Chase Budinger be the new Master Blaster?
The final slot in the NBA's dunk competition is up for grabs. Two players will trade jams in the first All-Star Slam Dunk-In during halftime of the rookie challenge on Friday, Feb. 12 to see who flies with the big boys. Fans will text or vote on NBA.com to determine who'll be the fourth contestant in the next day's main event. There's no telling if Chinese voters will find a way to write-in Tracy McGrady.
Who'd you like to see in the Slam Dunk competition? DeMar DeRozan with his 40-inch vertical? Houston Rocket and standout volleyball player Chase Budinger?
If it were up to us, we'd open the field to non-NBA athletes. Here are a few we'd throw into the pool:
Matt Kemp – Judging by these videos posted on Vin Scully Is My Homeboy, the Kemper's already got some game. Now that the Dodgers' outfielder doesn't have to worry about a contract extension, he could get some coaching from Kobe and really learn how to throw down.
Vincent Jackson – The Chargers' wide receiver is already the NFL's most impressive goalpost dunker.
Brittney Griner – She still has room to grow and (gulp) get stronger, but even now Baylor's 6'8" phenom would put on a good show.
Bryan Clay – Does the Olympic gold medalist decathlete want to cement his bid as the World's Greatest Athlete? He should grab a pair of high tops and break out the props.
Phoenix Suns' Gorilla – This pick almost requires the other contestants to break out the flaming hoops and trampolines. That said, who wouldn't want to see what Dwight Howard could do with a trampoline?
The NBA will announce the other Sprite Slam Dunk starters on Monday, Jan. 18.