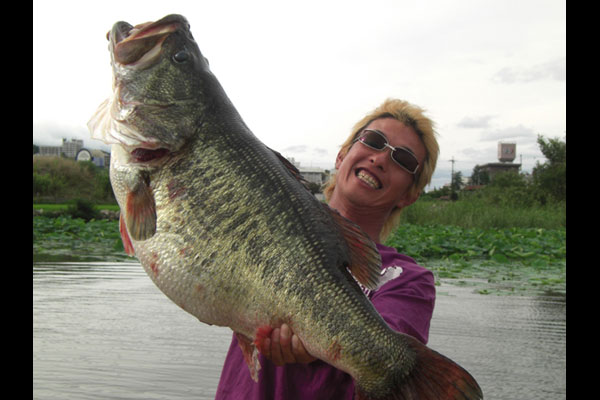 Courtesy of IGFA
The "Kyoto Bass Roll" will soon be on special at your favorite sushi restaurant.
Joe DiMaggio's 56-game hitting streak. Jerry Rice's 1,549 receptions. Wilt Chamberlain's 100-point game. George Perry's 22 lb 4 oz largemouth bass. They said some records were untouchable. But "they" apparently didn't speak Japanese.
After a six-month investigation, the International Game Fish Association (IGFA) has acknowledged the authenticity of the 22 lb 4 oz largemouth bass caught from an ancient reservoir near Kyoto by Japan's Manabu Kurita. Ladies and gentlemen, George Perry's 77-year-old record has been tied.
Perry's record had been considered the "holy grail" of fishing and it helped spawn a billion-dollar industry of bass fishing in North America. That all changed in less than three minutes this past July when Kurita quickly landed his record-tying monster after hooking the fish on his first cast in the area.
Kurita's journey into the record books turned out to be much more difficult. He submitted photographs and video of his catch, digital scale results, and signed affidavits in support of his application to the IGFA. That didn't seem to be enough so Kurita, at the request of the IGFA, even submitted himself to a lie detector test.
In the end, there was just too much evidence and Kurita's fish story couldn't be denied. Congratulations to Mr. Kurita for what will forever be known as bass fishing's "Immaculate Reception."