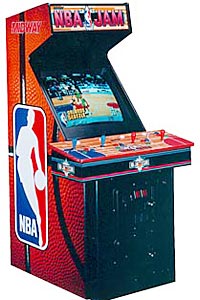 Listen up children: this is the machine that has destroyed many a friendship and weekly allowance.
Back in the day, when arcade games were 25 cents a play, NBA Jam was the king of the multiplayer court. With superhuman dunks, flaming full-court shots and Bill Clinton, it set an industry record for the all-time money made in a single week. Now Electronic Arts is developing a new version of the classic specifically for the Wii, and it's looking like a perfect update to the backboard-shattering foul-free fest of yesteryear.
Mark Turmell, one of the main brains behind the original NBA Jam and NFL Blitz, signed on as a creative league at EA Tiburon, which gives us very high hopes that the 2010 version is going to be ON FIRE! At least Shaq, the only active player who was in the original arcade game (his backcourt partner was Scott Skiles), won't have to transport a full-size machine on road games like he did while playing for the Magic. By the way, in case you haven't read this article from The Magazine, Turmell's stories about the Gary Payton/Michael Jordan special edition and the Drazen Petrovic haunted machine are classics.
Speaking of classic 8- and 16-bit sports games, here are some retreads Turmell's team should tackle next:
Nintendo's Ice Hockey – Because every player in the NHL can be reduced to a fat guy who can shoot, a skinny guy who can skate/pass and a short kid who's not particularly great or terrible at anything.
Blades of Steel – In our minds, the 2000 Playstation version never existed. What better way reboot the first hockey game of the 8-bit era to feature one-on-one fistfights than with the most realistic fighting engine on skates? You could get virtual Matt Bradley to step in and do all of Alexander Ovechkin's dirty work for him at the last second.
Double Dribble – Has there ever been a better game named after a rules violation? Were there any better fake monikers for real teams than the Chicago Ox and Boston Frogs? You can have your newfangled NBA Live freestyle second analog stick nonsense. All we need are two buttons and every dunk in black-and-white slow motion.
Tecmo Super Bowl – Yes, someone tried to bring this back in '08 on the Nintendo DS, but we're rooting for a fully-licensed comeback. It all comes down to four plays and The Truth. The big question is, who's going to carry the mantle as today's Bo Jackson-esque wrecking ball? Chris Johnson? Maurice Jones-Drew? Herschel Walker?
R.B.I. Baseball – The Yankees are still playing it in the clubhouse to this day. Finally, C.C. Sabathia would get to play as himself rather than Bert Blyleven.
Bill Laimbeer's Combat Basketball – On second thought, some franchises are better off buried in the past.
No release date has been announced for NBA Jam's 2010 incarnation, but rest assured we'll be the first to pre-order it with the rest of the diehard arcade-style ballers.