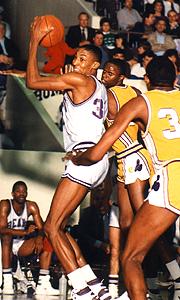 Photo: December 1, 2005
Nice undergarments shorts!
For every Rocky Balboa there's a Paulie Pennino, a sidekick who never quite gets his due. If Paulie didn't permit Rocky's meatpacking training, would there have been six Rocky films? The basketball version of Paulie is Scottie Pippen. Jordan's greatness is unparalleled, but would his Airness have six titles without his buddy S-Pip? This can be debated for hours. But unlike Bert Young who never won a supporting actor Oscar for his portrayal of Paulie, Pippen is finally being honored tonight when Central Arkansas retires his No. 33 jersey.
The future Hall of Famer's jersey will go up at halftime of tonight's Central Arkansas versus Nicholls State game. Pippen was a walk-on manager at UCA before former coach Don Dyer discovered him and turned him into a two-time All-American and future NBA star. Pippen was drafted fifth overall by the Sonics in 1987, but sent to Chicago for Olden Polynice. In other words, the Scottie Pippen story is Rudy (1993) gone really right.
With hopes of having its best crowd in school history tonight, several promotions have been planned. The hottest item will likely be Pippen commemorative tees given to the first 1,000 fans in attendance. If the shirts are anything like these Dick Tracy opening night tees, we're sure they'll be huge on eBay. On top of the tees, the first 300 youngsters, ages 14-and-under, will receive free admission and an NCAA growth poster in which they can measure their growth against the height of current college basketball players. It looks like Up (2009) is running a similar promotion in preparation for the Academy Awards.
So if you have $5 to spare and live in the area, you should consider checking out some Bear basketball tonight. It's rare to see a star of Pippen's caliber attend such a relatively unknown university. If you miss this event, it could be years before Monmouth University hosts a Miles Austin night.