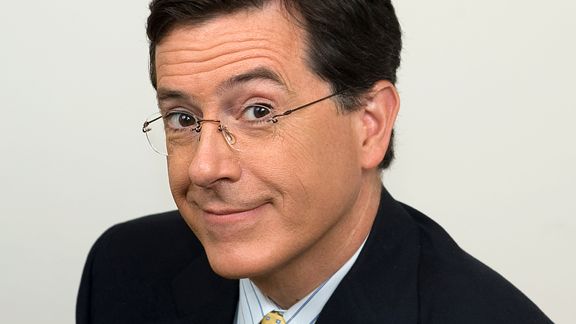 AP Photo/Charles Sykes
Underneath this suit is the heart, and skinsuit, of a speedskating champion.
Comedy Central host Stephen Colbert is learning to speedskate. You know, because he's sponsoring the U.S. speedskating team and he challenged star Shani Davis to a race, then Shani called Colbert a jerk, then Shani agreed to race him. Makes sense, right?
Even if it doesn't, it's happening. In fact, Colbert got quite the lesson from Tucker Fredricks, the American record holder in the 500 meters, in preparation for his race. If you pay attention to the segment (the clip is about six minutes long but totally worth it) it seems pretty clear that Colbert is not destined to suit up for Team USA anytime soon.
Nonetheless, we're still big fans of the idea of celebrities making a run at their Olympic dreams. Colbert's not the first one to do so — remember Gina Davis and her efforts to make the women's archery team in 2000? Surely there are other celebs out there that could shine in the athletic arena in Vancouver next month.
How about Ted Nugent, noted gun activist and member of the National Rifle Association's Board of Directors, in the biathlon? He must know how to shoot a rifle, right? And that's half the battle! We're sure he'd pick up the whole cross country skiing part in no time.
Of course we can't forget Homer and Marge Simpson. Rumor has it those two are quite the curlers. At least, they will be in an upcoming episode, scheduled to air during the Winter Olympics, in which Springfield's famous couple form a mixed-doubles curling team with Principal Skinner and his mother (experienced curlers, of course). Maybe ex-Simpsons writer Conan O'Brien could serve as their coach? From the looks of things, he'll have some free time coming up.
The Rock – sorry, Dwayne Johnson – would be a natural at figure skating. Well, if not a natural at least he would already have a costume for it thanks to his latest role in "Tooth Fairy" (hits theaters Friday!!). And we're pretty sure Alec Baldwin was born ready to contend in a downhill skiing race. With that protective shell of hair of his, he wouldn't even need a helmet. (Zing!)
But perhaps no celebrity is better suited for a spot on Team USA than Steve Carell, noted skater extraordinaire and a big-time hockey fan. And if this clip is any indication, The Office boss is ready to put in the work, too. Maybe he could teach his old buddy Colbert a thing or two about staying upright on the ice as well.