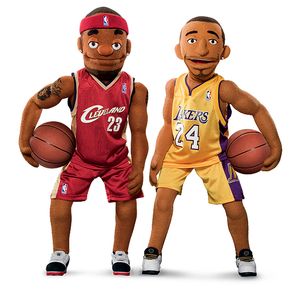 THE PUPPET MASTER
Kobe Bryant visits LeBron James tonight just 19 points shy of the 25,000 mark. That's a miniscule amount in the big picture, but it's not exactly miniature, which is something Kobe will explain to you this morning on Sesame Street. And while he's not the first athlete to mingle with the Muppets, he might just be the first athlete to have two different puppet versions of himself bouncing around the tube at the same time. Call it TV magic.
More from The Rundown, including the other great matchup of superstars tonight and why six now equals seven (new math), after the jump.
MEANWHILE, BACK AT THE IGLOO
To balance Kobe and LeBron facing off in Cleveland, the NHL offers up Alex Ovechkin and Sidney Crosby facing off in Pittsburgh. It's the first game between those two this season, which means we last saw them face off 253 days ago (but who's counting?) in the 2009 Eastern Conference Semifinals. In the regular season, Crosby has won 11 of the 15 games he's played against Ovechkin. But there was one game in which Ovechkin played but Crosby did not. (Ovechkin had two goals and an assist in that game.) Also, they don't seem to like each other very much. And here's video proof.
6 = 7
Martin Brodeur posted another shutout last night (yawn). It's the 108th time in his career he's kept a clean sheet, and the 6th time he's done it against the Florida Panthers. So that ties him with Olaf Kolzig for the most shutouts against the Panthers by any goalie. So that means Brodeur is now the all-time leader (or co-leader) in shutouts against 7 NHL franchises. The others? The Thrashers (6), the Whalers, nay, Hurricanes (7), the Islanders (10), the Senators (6, tied with Dominik Hasek), the Flyers (9) and the Lightning (5).
Brodeur can't shut us out when it comes to delivering The Rundown. We put that biscuit in your basket each and every morning. All you have to do is sign up for it here.