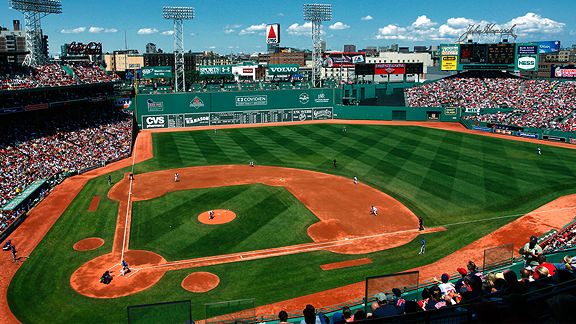 Joe Robbins/Getty Images
"I like it, but can you show me something in a Wrigley?"
Two words: Gen. ius. Scotts lawn company is selling a grass-seed product that contains the very same varieties of seeds used to grow the luscious lawn at Fenway Park.
The bags of baseball grass — ready for Opening Day, don't worry! — will sell for $22 and will be autographed (and this is the selling point we think will drive people to their registers in hoards) by none other than David Mellor, Red Sox director of grounds.
Like we said. Genius. It's already a known fact that Red Sox fans will buy anything associated with their beloved team. And we're not just talking about these disturbing Kevin Youkilis t-shirts. We're talking about Dice-Kream (Dice-K ice cream of course), thousands of dollars worth of furniture and lottery tickets.
And now the option to have actual Fenway seed on the ground? It goes without saying that it will not only please people like this, who build replica Fenway Parks in their backyards, but also every Tom, Dick or Harry who's ever uttered the phrase "Anotha Homah for Nomah."
But we do wonder if the masterminds at Scotts couldn't have made the sod even more authentic. For instance, if someone were to comb through the blades of Kentucky Bluegrass would he find tufts of Youkilis' beard? Bits of the massive wad of gum that is always parked in Tito Francona's left cheek? Patches of green, uh, monster fur shed by Wally the Big Green Monster himself?
And those questions only beg more questions: Will the grass grow better if watered by the tears of the collective Red Sox Nation shed from 1918 to 2003? If it starts tilting to the left to get more sun, with a Carlton Fisk-esque wave straighten it out? Is the owner contractually obligated to dump water on it, freeze it, then have some NHL teams play a regular season game on it? Or make it available to aging rockers for special concerts?
And surely it will attract visitors. Do they have to pay double to walk across it each October? Will passers by spontaneously break out in verses of "Sweet Caroline?" Will Stephen King and Ben Affleck start dropping by Sox-sodded houses?
Finally — and this is the question we're sure Red Sox Nation is pondering — will Jimmy Fallon and Drew Barrymore run across your lawn during your family's most cherished of moments, soiling them for all eternity? OK, we know that happened at Busch Stadium in St. Louis, but word is Scotts will also be making Wrigley, Great American Ballpark, Citizens Bank Park and Busch Stadium sod. So it's best to be prepared for the worst.