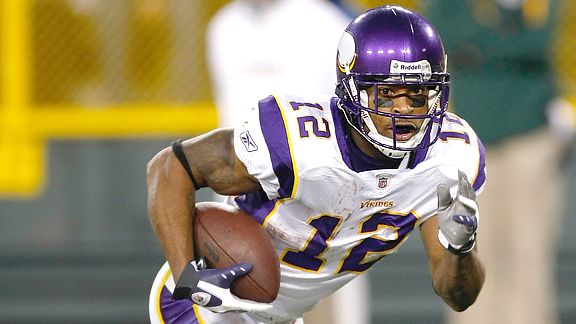 Scott Boehm/Getty Images
A Minnesota Migraine
Today the Vikings' rookie receiver/kick returner Percy Harvin was not on the field during the portion of practice open to the media. He began suffering symptoms of migraine headaches Thursday. The NFL's offensive rookie of the year finished second in the NFC with 2,081 total yards. The Vikings will release their final injury report Friday afternoon. Kickoff for Sunday's NFC Championship Game between the Vikings and Saints is 6:40pm ET.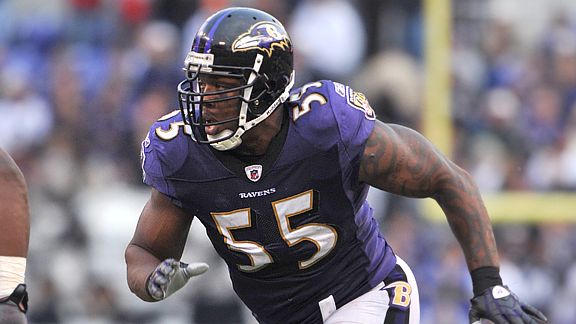 Larry French/Getty Images
Lawsuit Dismissed
A Baltimore judge dismissed the domestic violence case and $70 million lawsuit against Ravens LB Terrell Suggs, a source told ESPN NFL insider Adam Schefter. In December, Candace D. Williams, the mother of Suggs two children, accused Suggs of hitting her, pushing her to the floor and sitting on her while holding her neck with one hand and a bottle of bleach with the other, according to court documents. The $70 million case was dismissed with prejudice, meaning Williams cannot file it again. Suggs was also sued for custody of the children, which Williams also lost Friday.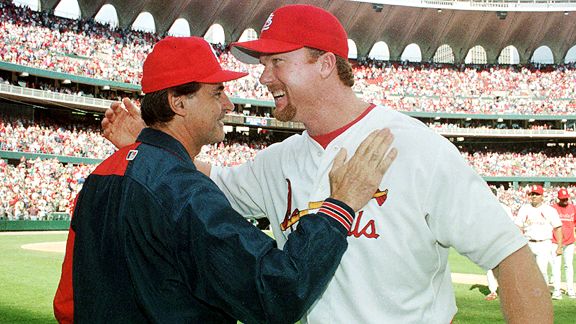 AP Photo/Mary Butkus
Two Sides To The Story
Former Cardinals' slugger Mark McGwire recently admitted to using steroids; however he maintains the drugs helped him recover from injuries and to stay healthy, but did not improve his performance on the field. Convicted steroids dealer Curt Wenzlaff told ESPN investigative reporter T.J. Quinn that he provided McGwire with steroids as early as the late 1980s, and that the array of drugs he provided McGwire, improved his ability to hit home runs. Outside the Lines contacted the Cardinals to get McGwire's reaction to Wenzlaff's comments, but they have not yet responded. For more on this story, watch Outside the Lines on Sunday morning, 9am ET on ESPN.