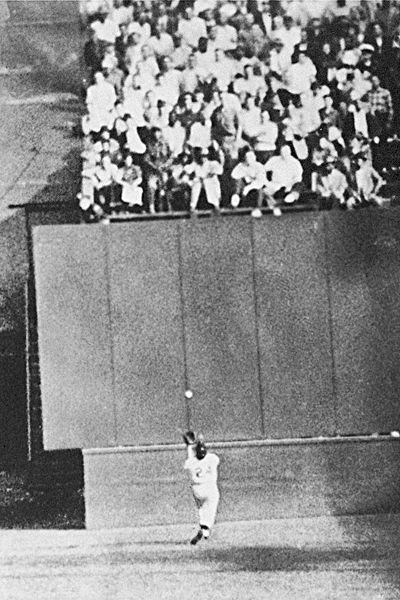 Photo: AP Photo
"This will either be known as The Catch or The Drop. Here goes nothing."
January 23, 1979 – Cooperstown rolled out the red carpet for William Howard Mays, Jr., arguably the greatest all-around player baseball has ever seen. During his 22-year career Mays tallied 660 home runs, 3,283 hits, two NL MVP awards, 12 Gold Glove Awards, the 1951 NL Rookie of the Year, one World Series (1954) ring, and tied an MLB record with 24 all-star appearances. And yes, the math does make sense. Between 1959-1962 MLB had two all-star games per season and Mays played in both all four years. How would the sports world feel if Iverson was elected twice to this year's NBA All-Star Game?
Accolades aside, the Say Hey Kid is perhaps most remembered for "The Catch," an over-the-shoulder running grab during the eighth inning in Game one of the 1954 World Series. The acrobatic play prevented two Indians from scoring and preserved a tie game, which the Giants later won in the 10th inning on a Willie Mays game-winning run (of course). Fictional characters like Willie Mays Hayes have attempted to replicate "The Catch," but none have equaled the grace and poise of Mays' historic play.
During his Hall of Fame induction, Mays was asked who was the best player he had seen during his career. He replied, "I don't mean to be bashful, but I was." Not even Michael Jordan said that at his Hall of Fame induction.