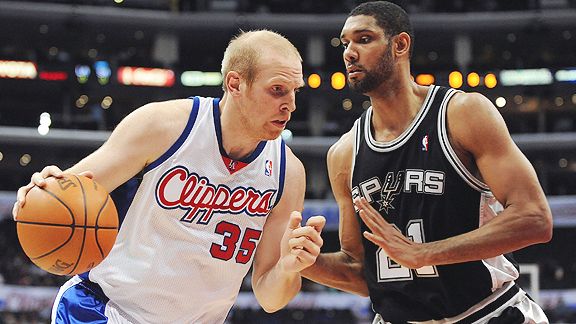 Photo: Harry How/Getty Images
"You think 20,000 points is impressive? Try eating Lakers' centers for breakfast."
All-star lobbying reached new heights this week when Clippers center Chris Kaman launched a smear campaign directed at Pau Gasol as the two compete for the backup duties on the Western Conference All-Star team. "I don't think Gasol should be in it at all," Kaman said. "He's only played, like, 20 games this year. I think there should be a number of games you should play. ... I think you should have to play, like, 80 percent of the games. It shouldn't be 50 percent over a guy who plays 90 percent and who has better numbers." Those seem like fighting words from Kaman. Dare we say undercard for the Usain Bolt versus Chris Johnson sprint? One lap around the track from the two seven-footers and the winner backs up Amare Stoudemire in Dallas on February 14th.
The potential for a race is there, but judging from past experiences (cough, Rajon Rondo) it's unlikely Kaman and Gasol will agree on race logistics. The naming of the NBA All-Star reserves isn't until Thursday, January 28th, but this is an issue that needs resolution ASAP. We can't have two of our favorite mop-tops arguing over who deserves all-star consideration. We broke down the two Los Angeles centers to decide which player deserves a ticket to Cowboys Stadium for next months NBA All-Star Game.
Hair: As you've probably noticed, we take our hair very seriously at ESPN. Gasol has always ranked atop our list of favorite haircuts, but the structural integrity of his 'do has often been compromised by sweat beads this season. In other words, it lacks the fluff we're accustom to seeing. Kaman, on the other hand, brings versatility with his hair. He goes long, short, shaved and even mohawk with his mane. We're sorry Pau, but Kaman has unseated you as part of the Four Hairsmen of the Amopalypse (next to Joakim Noah, Anderson Varejao and Mike Miller).
Edge - Kaman
Former Schooling: Chris Kaman attended Central Michigan University and played three seasons for the Chippewas before the Clippers selected him with the 6th overall pick in the 2003 NBA Draft. Before bolting to the NBA, Kaman led the Chippewas to a 2003 MAC Championship, but won just one NCAA tournament game. Unlike Kaman, Gasol succeeded in delivering a championship in his former league. Gasol led FC Barcelona to the 2001 Spanish National Cup and was named Spanish League Finals MVP. Overseas was the way to go.
Edge – Gasol
Hollywood Hunk: Ask any Average Joe and he'll tell you L.A. means movies. Unfortunately for Kaman, Denzel and Jack are Lakers fans and don't make the trip to the Staples Center to watch L.A.'s other team play. Maybe it's unfair, but last we checked it was Gasol who was guest starring on CSI Miami. On a side note, does Gasol normally drive with his head out the sunroof or do they make custom SUV's for 7-foot ballers?
Edge – Gasol
Personality: Gasol may have the on-screen presence for major motion pictures, but Kaman has so much personality it's kind of amazing he doesn't have his own reality TV show. When he's not posting double-doubles for the Clippers, he's supervising Kaman Transportation (trucking company), shooting arrows with a bow in his backyard and watching YouTube clips of Mentos rockets. Chris, please don't bring the bow and arrows to the Clips locker room. We don't wanna lose you.
Edge - Kaman
We're tied 2-2, but after much deliberation we solved the problem. Each All-Star team allows two wild card reserves. Kaman gets his highly-coveted backup center role, while Gasol takes one of the two wild card spots. Both giants live happily ever after on the Western Conference All-Star team. The End. ... Until the 28th, when the squad is actually announced.