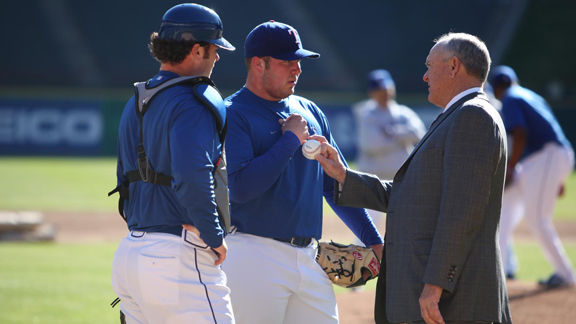 Brad Newton
"Just throw it faster. Why does everyone have such a hard time getting that?"
The sale of the Texas Rangers from the Hicks Sports Group to Nolan Ryan and his investment group (yes, THE Nolan Ryan) is nearly complete, pending approval from MLB.
Ryan and his friends can't erase history (read: they can't un-pay the $252 million former owner Tom Hicks gave to A-Rod in 2000, nor can they change the fact that the team hasn't reached the playoffs since then), but they can – and must, according to local reporters – start making some changes down in Arlington, and fast.
The anxiety of the Rangers' fan base is understandable, seeing as Texas is the only current MLB team without a playoff series win. But as for what Ryan and Co. can do about it, that's anyone's guess.
One suggestion: bring in motivational speakers. An obvious choice would be Tony Romo and the rest of the Dallas Cowboys, a Texas team that found a way to shake off its own playoff demons this year. Topics might include: "Seven Ways to Shake Off Bad Luck." No. 1: Build a Billion-dollar Stadium. No. 2: Show Games in 3D … .
Another speaker might be Nolan himself along with MLB mastermind Joe Torre. Not because Torre's won four World Series titles and two Manager of the Year awards (well, maybe a little bit because of that), but because he was the guy Nolan Ryan gave up his first major league home run to. And, as we all know, Nolan turned out just fine. Topics might include: "Keys to Winning: Perseverance (and a 100-mph fastball)."
Or, maybe Nolan wants to bring someone in on a more permanent basis. After all, it worked way back when the Rangers were the Washington Senators and ownership brought in Ted Williams to manage in 1969. Teddy Ballgame had never managed before — he'd never even coached — but somehow led the team to its only winning record in its 12 years of existence. We know some retired sluggers who just might fit the bill: Edgar Martinez, Rafael Palmeiro, Jeff Bagwell, Frank Thomas — any takers?
Of course, there's always fighting. As in a big, old-fashioned baseball brawl. It seemed to work for Ryan back in his playing days, like when he went on to pitch scoreless ball after this fight with Robin Ventura in August of 1993, the final year of his career. Perhaps the whole Rangers team could sign up on an MMA card, seeing as how that's the trend these days. Or host WWE. We hear fellow Texas owner Mark Cuban has an in there.
If none of that works, Ryan should just turn his attention to pursuits outside of baseball. Lucky for him, he has a background in soap opera acting thanks to a stint on "Ryan's Hope" in 1975. On second thought, maybe not.