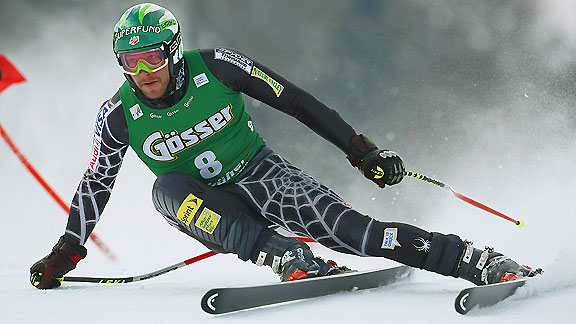 AP Photo/Alessandro Trovati
If Bode Miller arrives at the U.S. Open in his downhill attire, even the Williams sisters will be impressed.
Next month's Winter Olympic Games are apparently not the only championship sporting event on two-time Olympic alpine ski racer Bode Miller's 2010 calendar. Miller, a former high school state tennis champ, is also hoping to relive his glory days on the hardcourt by competing in a national playoff for a spot in the U.S. Open main draw.
The USTA has set up a qualifying tournament to run from April through June with 256 unseeded male and female entrants at each of 16 sections nationwide. This means that before the "Bode-sattva" can walk onto the court at Arthur Ashe Stadium, he'll first have to beat out as many as 4,000 other participants in the men's draw and win up to 15 qualifying matches. Of course, he'll also have to scrounge up the $125 registration fee.
While Miller's exploits on and off the mountain have garnered him a lot of attention over the years, he has quietly built a well-rounded sports resume that makes a potential run at the U.S. Open seem somewhat feasible.
In addition to his high school tennis heroics, Miller excelled at soccer and golf while attending a ski academy in Maine. He has also suited up for the Nashua (N.H.) Pride minor league baseball team to help raise money for the Lance Armstrong Foundation. Perhaps most impressively, Miller is even a former champion of ABC Sports' all-around Superstars competition.
If the prospect of facing the multi-talented Bode one-on-one doesn't have you psyched out, then get ready to throw your own hat into the ring – registration for the national playoff begins February 1st. In the meantime, Bode will be busy training for the Winter Olympics – that is, when he's not recovering from his recent volleyball injury.