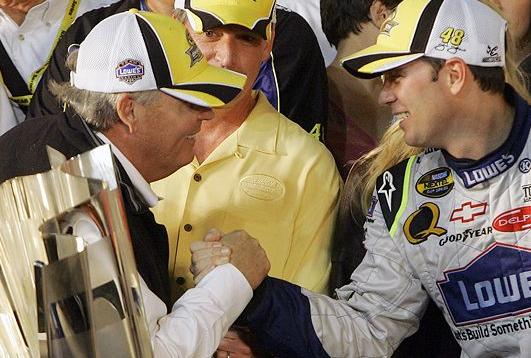 AP Photo/Chuck Burton
HENDRICK MOTORSPORTS LOCKS UP JOHNSON:
Jimmie Johnson, closing in on his 4th straight NASCAR championship, signed a 5-year contract extension today with Hendrick Motorsports that keeps them together through the 2015 season. This is his third contract extension since joining Hendrick in 2001.
"Jimmie is charting new territory in our sport, and that's due to a combination of natural talent and unsurpassed work ethic," team owner Rick Hendrick said. "How he's committed himself is just incredible, and it shows in everything that he does - not just on the racetrack. There's no question that he's one of the great champions in all of sports, and he's not done yet."
Home improvement chain Lowe's also signed an extension to sponsor of Johnson's No. 48 Chevrolet through the 2013 season.