Union Concern Possible
NBA Commissioner David Stern suspended Wizards teammates Gilbert Arenas and Javaris Crittenton for the remainder of the NBA season for their roles in last month's locker room dispute. However, a source tells ESPN The Magazine's Ric Bucher that Crittenton has not yet agreed to accept the season-long suspension and his counsel and the players union are in discussions on how they might challenge it. Sources also confirm that Arenas is aware of Crittenton's plan, but has decided to keep the promise he made to Stern and not fight the suspension.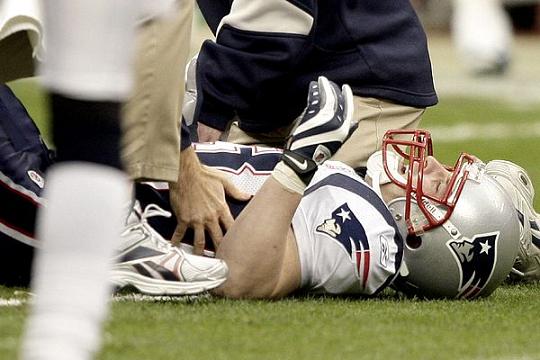 Bob Levey/Getty Images
One Month Later
Patriots Wide Receiver Wes Welker has yet to have surgery on the knee he injured in the team's season finale against the Texans on January 3rd. But the Boston Globe now reports that Wes Welker will have surgery to repair a torn ligament in his left knee on Tuesday at Massachusetts General Hospital. The surgery will come roughly one full month after the injury. Welker has been waiting for his MCL to heal naturally and the time also helps to prevent an infection. When Tom Brady had his surgery last season, his knee became infected because the surgery took place too soon for the MCL to heal. Depending on his recovery, Welker could miss between six to 12 months. He will likely not be ready to play by the start of next season, though it is possible, according to some doctors.
Lefty Sympathetic
Phil Mickelson is hopeful that Tiger Woods will make a successful return to the PGA Tour. In his first comments since Woods' car accident in November, and subsequent leave from golf, Mickelson began a pre-tournament news conference at Torrey Pines by saying, "The game of golf needs him to come back.'' He added, "I mean, it's important for him to come back and be a part of the sport. But right now he's got a lot more important things going on in his life. Amy and I are good friends with both Tiger and Elin, and we care deeply about how this turns out. But I'm going to choose not to talk about it publicly anymore and I appreciate your understanding on that."