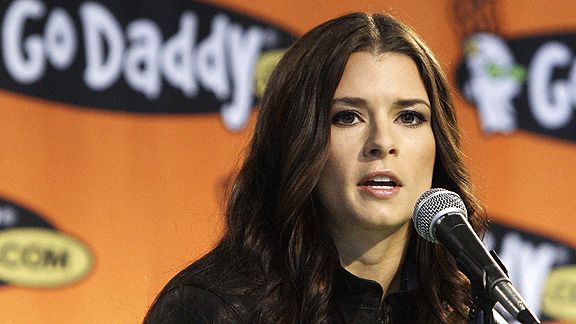 AP Photo/Ross D. Franklin
Ready For Racing
Danica Patrick will compete in 12 NASCAR Nationwide Series races, but is undecided on whether she will race in the February 13 season opener at Daytona International Speedway. She WILL be racing February 20 at Auto Club Speedway and February 27 at Las Vegas Motor Speedway. Then, she will take a four-month hiatus to focus on the IndyCar Series before returning to drive the #7 GoDaddy.com Chevy in the Nationwide Series June 26 at New Hampshire Motor Speedway.
Patrick will also race in Chicago (July 9), Michigan (Aug. 14), Dover, Del. (Sept. 25), Fontana (Oct. 9), Charlotte (Oct. 15), Madison, Ill. (Oct. 23), Texas (Nov. 6), Phoenix (Nov. 13), and Homestead, Fla. (Nov. 20).
Still Hurting
San Antonio Spurs guard Tony Parker will likely miss several games due to a mild ankle sprain. The swelling in Parker's left ankle was minimal after being carried off the court Wednesday night. There was no structural damage. Parker won't play Friday against Memphis and will probably miss Sunday's game against Denver. Parker has had trouble all season with the same foot. He missed four games earlier because of another ankle sprain and has been bothered by plantar fascitis.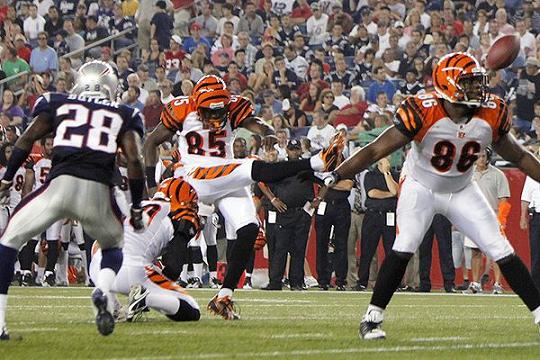 David Butler II/US Presswire
Reason To Watch The Pro Bowl
Chad Ochocinco made it to the 2010 Pro Bowl as a wide receiver, but he wants to contribute as a kicker. The Bengals #85 made some kickoffs during practice on Thursday in Miami, hoping to convince the coaches that he's capable. On Wednesday, he practiced his punting skills during warm-ups.
Ochocinco told The Associated Press in a phone interview after practice that he's also planning to kick field goals during practice this week. "Yesterday was punting, today was kickoffs, tomorrow will be field goals," Ochocinco said. "I don't know. We'll see what happens. If the coaches want more proof, he's got the tape."
The six-time Pro Bowl receiver does have kicking experience. Last August, when Bengals kicker Shayne Graham was bothered by an injury before a preseason game against New England in Foxborough, Ochocinco kicked an extra point (photo above) and had a deep kickoff as Graham's replacement.
He hopes he gets the nod in the Pro Bowl. "It shouldn't be a problem," he said. "If they're going to let me do it, I'm going to do it early in the game before they get serious and they start to play for real."