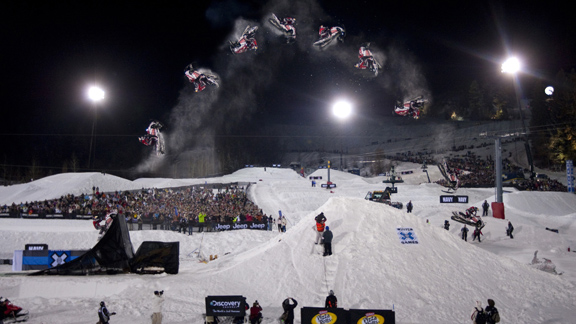 Photo: ESPN/Shazaam
Levi Lavalee morphs into 11 snowmobilers as part of his best trick run.
For those of you unfamiliar with a frontside nollie air into a backside rodeo flip, it's time that you seriously consider checking yourself. Winter X Games 14 kicked off yesterday from Aspen, CO and the competition features nearly 300 men and women, 39 who are Olympians, competing in skiing, snowboard and snowmobile events.
For the Winter X Games rookie viewers out there, we've put together a list of 14 things you should know about Winter X Games 14 before indulging in some gnarly snow sports.
14. Winter X Games Has Added Two New Events: Skiing SuperPipe High Air & Snowmobile Knock Out are brand new disciplines. The skiing high air is comprised of six skiers in a 30-minute session competing for the highest air in the superpipe. In Snowmobile knock out, six riders are scored based on distance traveled off ramp to landing. Each round the rider with the lowest distance is eliminated. As the guy in this video can tell you, new events are dangerous and snowmobile jumps are for experts only.
13. Shaun White Hopes to Three-Peat Again: White has already three-peated in Men's Snowboard Slopestyle. A gold medal in Superpipe would make White only the second person in Winter X Games history to three-peat in two different disciplines. Furthermore, this accomplishment would put some distance between him and Carrot Top and Alexi Lalas in the contest for American Entertainer with Amazing Red Locks.
12. Levi Lavallee is Backflipping Good: Last year, at Winter X Games 13, Lavallee landed the first ever double backflip on a snowmobile in the best trick competition, but failed to take home a medal as rules state riders must land their trick cleanly. Lavallee is registered in four different snowmobile events in 2010. Does Lavallee have a triple lindy in his back pocket this time around?
11. Lloyd Christmas Was Here: These competitors are going to be touching the same snow graced by Dumb & Dumber's famed duo, Lloyd Christmas and Harry Dunne. Break out your orange and blue tuxedos and pay homage to Aspen's finest.
10. Did Someone Say Five-Peat: A gold medal for Nate Holland in Men's Snowboard Cross will make him the only person in Winter X Games history to ever five-peat an event. Three more after that and we're talking Bill Russell (eight-peat) territory.
9. Awesome Gear: On top of all the amazing parkas the pros wear, you can own your own piece of X Game merchandise. We recommend the Heath Frisby Thunder Drift Shirt; you'll go right to the front of the water cooler line wearing this piece.
8. Lindsey "Jordan" Jacobellis: Similar to His Airness, Jacobelllis won three titles (2003-2005) in Women's Snowboarding Cross, took a two year break from gold medals, and then won the last two titles in 2008 and 2009. A 2010 win in Women's Snowboarding X would give Jacobellis her second three-peat and make our comparison complete.
7. Celebrity Sightings: Playing "spot the celebrity" during Lakers games is fun, but finding Jack has become way too easy. The city of Aspen is host to many part-time celebrity residents like Charlie Sheen and Michael Douglas. You want a challenge? Try spotting the likes of Wild Thing and Gordon Gecko in a crowd of 85,000 wild fans.
6. Dumont Equals Big Air: Simon Dumont is 23 years of age, stands 5'6'' and weighs 145 pounds. He also holds the world QuarterPipe height record jumping 35.5 feet out of a 38-foot QuarterPipe. Dumont will compete in both Skiing Big Air and Skiing SuperPipe High Air. Dumont said of Aspen, "This will be my best run yet."
5. Snowboard Dictionary: "Superman" is not the man of steel; it's when a rider lays flat in the air, both hands reach under the board to grab the toe side and or the shin of each boot, both legs are bent and the board is pulled up behind the rider.
4. Where to Watch: On top of 24 and a half hours of live coverage on ESPN, Winter X Games 14 can be seen on ESPN International, XGames.com, ESPN360.com, SportsCenter and ESPN2's X Center. So if you plan on taking a trip to the Brazilian rain forest, you can still access the Winter X Games via the web. You're welcome.
3. Olympic Tune-Up: Everyone knows the Flying Tomato, but this is a great way to familiarize yourself with the other big names in winter sports before tuning into the 2010 Winter Olympics.
2. Hugging Record: Colorado resident, Dagny McKinley is trying to set a Guinness world record for most hugs given in a 24-hour period. Her venue of choice is the Winter X Games at Buttermilk Mountain. She's setting up near the public entrance to the competition, under a banner reading "world record attempt." If match.com isn't working for you, this is your next step.
1. Winter X Games Can Be Your Guilty Pleasure for the weekend: Jersey Shore is over, Lost doesn't begin until next week, and the NBA All-Star Game is still a couple weeks away. Take advantage of the downtime and brush up on your X Games.