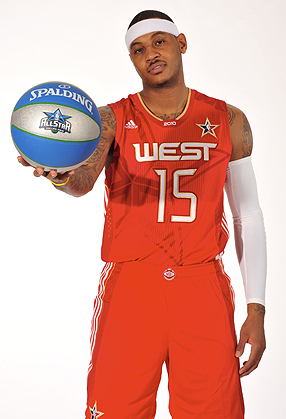 Photo: Garrett W. Ellwood/NBAE/Getty Images
"I feel like a clown holding this circus basketball."
The VIP guest list is finally set for what Mark Cuban thinks "could be the largest party weekend in the history of the United States." The A-listers, aka the NBA All-Star teams, were finalized last night as the coaches chose the reserves for the Eastern and Western conference squads. There were seven first-time selections and with the addition of Rajon Rondo and Paul Pierce to the Eastern team, the Celtics will be the most represented NBA team with three players (Kevin Garnett is a starter).
Each All-Star squad is comprised of five starters (voted by fans) and just seven reserves (named by coaches) so it goes without saying, certain players feel snubbed. David Lee has one of the strongest cases, boasting a stat line of 19.6 ppg, 11.5 rpg and a FG pct of 55.6. Unfortunately for Lee, winning was a deciding factor for coaches as no All-Star belongs to an NBA team with a losing record. Lee's best hope this year may have been if the All-Star game was played a week before the NBA Finals and the Celtics represented the East. This would have opened up three spots and Lee could become an alternate. Hey, it worked for Vince Young.
With the All-Star rosters finalized, we can start piecing together the impending story lines. Can Jerry Jones and Mark Cuban coexist as hosts? Are they the next Darth Vader & Emperor Palpatine or are they Chuck Woolery & Richard Dawson? These is just one of the many intriguing NBA All-Star Game subplots.
- Terrell Owens is a huge basketball fan and the NFL will be in its offseason. Will T.O. make his long-awaited return to Dallas? The game is held on Valentine's Day and we know how Owens feels about his former quarterback, Tony Romo.
- Unlike last year in Phoenix, it will be a Shaq-less All-Star game in Arlington and that means no Jabbawockeez-Shaq performance. Being the first-ever Bobcats All-Star, does the onus fall on Gerald Wallace to perform? If so, his deep voice would make him an excellent choice for a barbershop quartet.
- Allen Iverson is back in Philadelphia and starting for the Eastern All-Stars. Will he show up early to Cowboys Stadium to partake in this sacred Philadelphia tradition?
- Chris Kaman was denied a spot on the Western squad in favor of Pau Gasol. How come Clipps super fan Frankie Muniz didn't use his celebrity pull to make a bigger push to get Kaman on the team? Are we the only people who still watch reruns of Malcolm in the Middle?
- Derrick Rose is the first Bulls player to make the All-Star team since Jordan in 1998. That's a lot of pressure on the second-year guard. If Rose is in the game come crunch time, would you intentionally foul him and make him hit the free throws circa the 2008 NCAA Championship?
- Al Horford and Joe Johnson were named All-Star reserves, but Josh Smith was left off the team. Will this create a divide in the Hawks locker room and if Mike Woodson still had eyebrows, would he raise them over the situation?
- Is Charles Barkley attending the All-Star Game and will he be racing Wade Phillips this time around instead of Dick Bavetta?