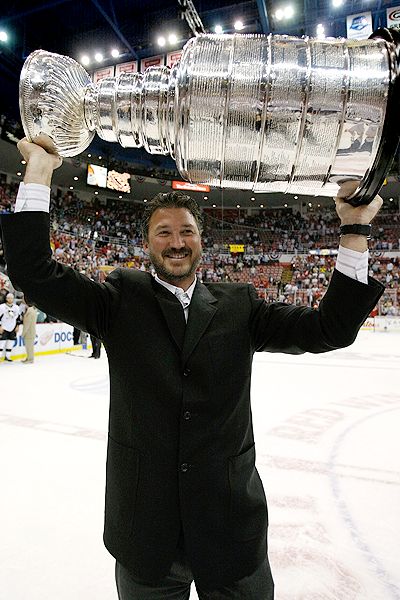 Dave Sandford/NHLI/Getty Images
"Step one is complete. Now I must conquer my greatest challenge, winning with the Pittsburgh Pirates."
The streets of Pittsburgh are running rampant with the news that Mario Lemieux and Penguins co-owner Ron Burkle met with Bob Nutting and the other Pittsburgh Pirates head honchos, inquiring about purchasing the team. Needless to say the news was well received by the remaining twelve Pirates fans left in Pittsburgh.
Lemieux has already saved the Penguins from bankruptcy and possible re-location once before, so many believe he could do the same thing for a struggling Pirates organization. There is a small problem: Pirates Owner, Bob Nutting, is adamant that the Pirates are not for sale and is not taking any bids at this time. After 17 consecutive losing seasons and numerous fan protests, we'd like to think Mr. Nutting would be listening to any and all offers for help, especially from the Pittsburgh icon himself, Mr. Lemieux.
So let's put on our imaginary cap as we so often do here at SportsCenter.com and say Lemieux did in fact purchase the Pirates and became their majority owner. Changes would be necessary, and this is how we see #66 making a serious impact on the young Pirates organization:
Take the best player available in the draft, like he did with Sidney Crosby and Evgeni Malkin. Sounds simple, right? Well not for the Pirates, they have a history of passing up on the better player, only to save money be drafting a lesser-known prospect. The most recent example, Matt Wieters.
Sign a grizzly old veteran (see: Bill Guerin) to supply the team with proverbial "veteran presence" for a playoff run. May we suggest, hmmm ... Brett Favre Barry Bonds? You say crazy - we say awesome. This would turn the Pirates into the MLB story of 2010. Any publicity is good publicity, right?

Let young Pirates phenom, Andrew McCutchen, sleep in Lemieux's basement. Seemed to work for Sidney Crosby and, at worst, you have an extra hand around the house for chores.

Instead of having the Pierogies race each other, have them race Zambonis. Can Zambonis operate on grass? We don't know, but we do know this would be worth the price of admission alone.