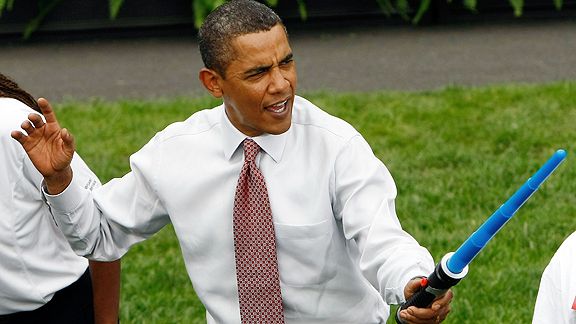 Win McNamee/Getty Images
President Barack Obama has challenged the BCS to a duel.
In the great sport of politics, health care has been benched. But like Landry Jones (and his mustache) stepping in for an injured Sam Bradford, there's always someone (or something) ready to enter the game. On that note, Bowl Championship Series, the President would like to see you now.
President Barack Obama made it clear before he was sworn in last year that he intended "to throw [his] weight around a little bit" to move college football toward a playoff system. Well, apparently, our slender Commander-in-Chief has recently been weighing himself on the scales of justice.
The U.S. Department of Justice has indicated this week that it is in the process of determining whether it will open an investigation into the current BCS system. The Obama administration is also considering other options, which include (a) encouraging the NCAA to take control of the college football postseason; (b) asking a commission to review the feasibility of a playoff system; and (c) backing legislative efforts aimed at creating a playoff system.
This whole issue has risen to the surface lately after several undefeated teams, including TCU and Boise State this season, have not had a chance to play for the national title. It's also become personal for Senator Orrin Hatch (R-Utah) after his home state team was not given the opportunity to play for the title last year. In fact, Senator Hatch, a leader on this issue, has even expressed that he is "encouraged" and "heartened" by President Obama's stance. Whoa - that's like an Ohio State fan telling a Michigan fan that their Wolverine helmets are actually pretty cool - and something not to be taken lightly.
In response to these bipartisan efforts, BCS executive director Bill Hancock has issued a stern statement that will seemingly accomplish little more than getting himself audited this year. Hancock, though, isn't alone in his defense of the current BCS system. The BCS publicity machine is currently running a spread offense, including a website, Facebook page, and Twitter feed that all go to great lengths to defend the status quo.
While the same old, same old may please the BCS for now, President Obama and Senator Hatch have kicked off what may be one kind of change 63% of college football fans can all believe in. And neither health care reform nor Landry Jones' mustache may stand in the way of that sort of progress.