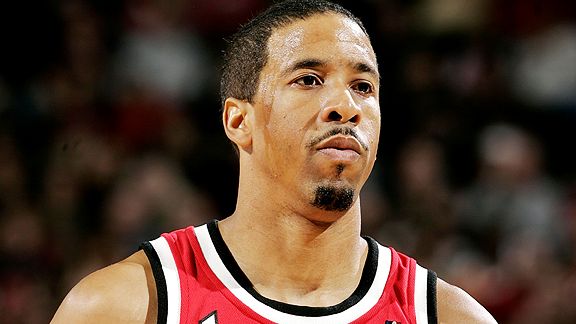 Photo: Sam Forencich/NBAE/Getty Images
"It just occurred to me, what exactly is a Trail Blazer?"
Based on the nationwide cold spells, Mother Nature is a die-hard NFL fan and isn't too pleased about waiting an extra week for Super Bowl XLIV. And even though most eyes are already on next week's Super Sunday, there were a lot of reasons to enjoy the weekend leading up to it. Serena Williams defeated Justine Henin for her second straight Australian Open championship, Herschel Walker won his MMA debut with a third-round TKO (by strikes) of Greg Nagy and Nate Holland became the first person to five-peat (Men's Snowbaord X) at the Winter X Games and we're barely scratching the surface on this weekend's most notable performances. So chill out Mo-Nat and send us some heat.
Vice President Biden and President Obama were in attendance Saturday to watch then-No. 11 Georgetown dismantle then-No. 7 Duke 89-77. Judging from the sea of gray jerseys that filled the Verizon Center crowd, the secret service did a great job in preventing the Cameron Crazies from invading Georgetown's home arena. It was the Commander-in-Chief's first Hoyas game and G-Town's first sellout of the year, but some would argue President Obama should have flown Air Force One at halftime to the Octagon of Doom for the Kansas State-Kansas showdown. The previously ranked No. 2 Jayhawks gutted out an impressive 81-79 OT win over then-No. 13 Wildcats and once again sit atop the NCAA rankings as the No. 1 team in the country.
Meanwhile, "it was the best worst of times, it was the worst of times" for Tim Tebow at the Senior Bowl Saturday afternoon. There were already question marks surrounding Tebow's ability to play at the next level and he didn't do much to silence the critics as he fumbled twice and finished 8 of 12 passing for 50 yards as the North beat the South 31-14 in Tebow's final collegiate game. Don't fret Timmy, you get one last chance to raise your draft stock next weekend when your 30-second commercial airs during Super Bowl XLIV. If it's anything close to your gut-wrenching performance after Florida's loss to Alabama, you'll be soaring up the draft boards in no time.
And just when you thought things couldn't get any stranger in Portland (cough, Greg Oden), Andre Miller scored 52 points as the Blazers downed the Mavericks 114-112 (in overtime) Saturday Night. Miller averages 13.4 ppg for the Blazers and entered Saturday's contest having had three straight underwhelming scoring performances (7,6,2) before dropping a career high 52. No disrespect to Miller, but he'll be 34 in March and journeyman point guards aren't supposed to do that. What's next in Portland, a 25-rebound performance by Steve Blake? Or how about Portland's head coach helping some girl sing the national anthem before tip-off ... oh wait, that happened already in 2006. You're safe for now Nate McMillan.
Lastly, Roger Federer once again demonstrated why people expect the expected when he takes the court, as he won his fourth Australian Open, defeating Andy Murray in straight sets to extend his own record to 16 Grand Slam titles. Is there any way to stop this 28-year old Swiss Juggernaut? We're all for blindfolding Federer or making him stand with his back to the net, but apparently he's mastered that shot as well.
Now, we can finally start the countdown for next Sunday's big game between the Magic and the Celtics; it should be a great one. Oh, and the Saints and Colts play Super Bowl XLIV next Sunday too.