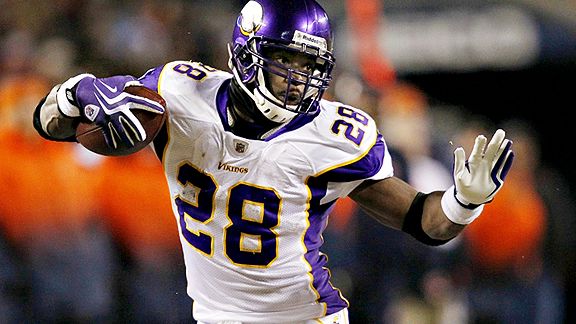 Photo: Jonathan Daniel/Getty Images
Isn't that pose reserved for 2,000-yard rushers?
It's not the dreadlocks because they're real and spectacular, but something about Chris Johnson must scream, "step to me" to other pro athletes. First it was Rajon Rondo challenging CJ to a race, and then there were rumors of Usain Bolt racing the NFL's rushing leader, and now it's Adrian Peterson calling out Tennessee's finest … well, sort of.
The Vikings star running back is impressed by Johnson's record-breaking year and NFL resume, but according to The Tennessean, Peterson (aka "AD" -- for All Day) isn't quite ready to renounce his throne as the NFL's top running back. "I think it's me of course," Peterson said with a smile. "I don't know what player wouldn't say that. But Chris is an outstanding player. I love to watch him. Where does he rank behind me? He is right there, No. 2."
Hold up just a second, AD. If this were an automobile race through suburban Minneapolis, we'd crown you before the key hit the ignition. But we're talking about the title of the NFL's best back. We can't just hand that over to you without a competition. Unfortunately, the Titans and Vikings aren't playing in Super Bowl XLIV, so we can't settle this debate on the field. However, we did create our own criteria for deciding whom is the NFL's top running back: Captain Quick or All Day?
Record-Breakers: Johnson was absolutely ridiculous this year becoming the sixth NFL player to rush for 2,000 yards (2006 yards to be exact) in a season. On top of his deadly ground game, CJ also caught 50 balls for 503 yards and scored 16 total touchdowns. As if his season's stats weren't outrageous enough, Johnson tallied one of the highest fantasy games in recent memory in week two of the NFL season as he rushed for 197 yards, caught for another 87 and scored three TD's from 57, 69, and 91 yards out. That was good for 54 fantasy points in our league! AD still holds the record for most rushing yards in a single game with 296, but that was back on November 4th, 2007. We're thinking someone runs for 297 yards before someone drops a double-nickel in another fantasy game. Sorry Adrian.
Edge - Chris Johnson
Commercialize Yourself: Peterson was the running back king of commercial media this season. Whether he was dressing up like a reptile for Nike Pro Combat, making us yell "play on playa" for his ESPN Monday Night Football ad, or having fantasy owners debate his cyborg-like qualities, one thing was for sure, if you were watching football you saw Peterson. Johnson on the other hand was mostly seen on highlight reels, until we dug up this gem of a video from YouTube. It's not exactly a "commercial," but we love how candid and honest the seller is. Twenty bucks for a CJ autograph is a huge steal! With ads it's about quality, not quantity.
Edge - Chris Johnson (you better thank that kid with some more autographs)
NFL Shopping Spree: With all the entrepreneurs these days, you can scour the Internet and find just about anything. So, we limited ourselves to just team stores found through NFL.com to locate the best player-related item. For $29.99, you can buy yourself a Chris Johnson wall clock complete with minute, hour and second hand. However batteries are not included and for those of you who have trouble deciphering time, it only displays a 3, 9, and 12 while the Titans logo represents the 6. For $15, you can purchase yourself an Adrian Peterson 6'' figurine from the Vikings team store. It's a great conversation piece and goes well in any office cubicle, but we find the positioning of the metal rod kind of distracting. You can outlast a figurine, but you can't outlast time.
Edge - Chris Johnson
And there you have it. Chris Johnson clinches the series after just three categories. We're in just as much shock as you. It almost feels kind of unfair, but CJ was a man possessed this season on and off the field. Here's what we're gonna do AD, we'll hold off crowning Johnson NFL's top running back until after training camp starts. That gives you six months to get some new commercials and fan gear for us to judge. We'll revisit this competition in July.