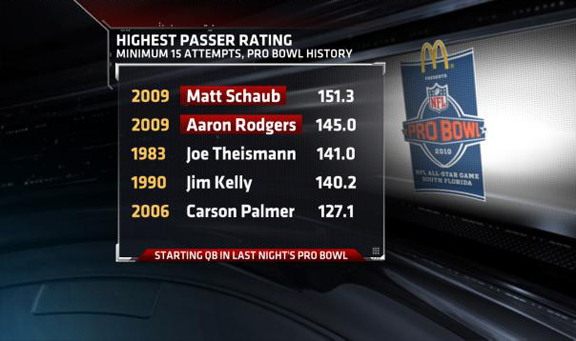 AFC 41, NFC 34
Matt Schaub throws 2 TD in the first 5 minutes to win the MVP award. Schaub finished 13-of-17 for 189 pass yds. Schaub's first TD was a familiar one, connecting with teammate Andre Johnson for a 33-yd score. The NFC loses for just the 2nd time in the last 5 Pro Bowls. Aaron Rodgers starred for the NFC, throwing for 197 yards and 2 TD. 34 players chosen for the Pro Bowl missed the game due to either injury or because they are scheduled to be in the Super Bowl. Attendance for the game was 70,697, the second-largest crowd in Pro Bowl history (1959 Pro Bowl, 72,250).
More: Game Recap | Box Score | Play-By-Play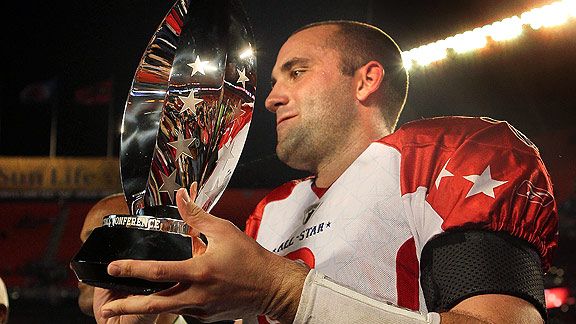 The 2 starting quarterbacks in Sunday's game put up the two highest single-game passer ratings (minimum 15 attempts) in Pro Bowl history:
Highest Passer Rating in Pro Bowl Game
2009 Matt Schaub, AFC* 151.3
2009 Aaron Rodgers, NFC 145.0
1983 Joe Theismann, NFC* 141.0
1990 Jim Kelly, AFC* 140.2
2006 Carson Palmer, AFC* 127.1
*Named Game MVP
Note: Minimum 15 Attempts, Pro Bowl History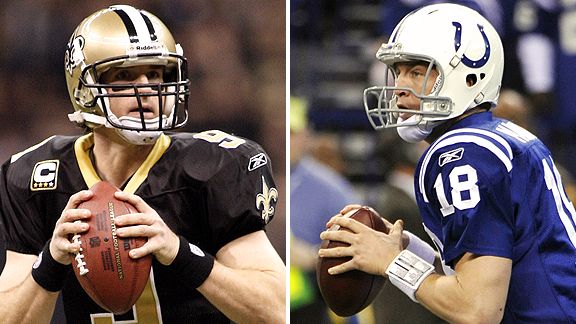 Photos: US Presswire
SUPER BOWL XLIV
QUARTERBACK COMPARISON BY THE NUMBERS:
-The Colts Peyton Manning is seeking to become the 6th player since 1990 to win the MVP award and Super Bowl in the same season.
-Manning was the MVP of Super Bowl XLI (41) -- in Miami. Keep that mind because Drew Brees is 3-0 this season against former Super Bowl MVPs.
-#18 has owned his hometown team recently. In his last 2 outings against the Saints, Peyton has 9 touchdowns and ZERO picks. The Colts, by the way, won both games by a combined 65 points.
-In 2009, Drew Brees recorded the highest regular-season completion percentage in NFL history. He competed more than 70 percent of his passes while leading the Saints to 13 wins.
-The Saints head to Miami having only won 4 post-season games all-time - the good news for New Orleans is that Drew Brees was at the helm for 3 of those 4 playoff wins.
---------------------------------------------------------------
IN THE NBA
---------------------------------------------------------------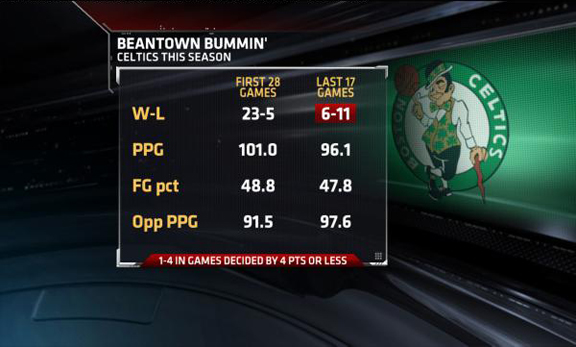 CELTICS ARE FREE FALLING:
Since beating the Magic on Christmas Day, the Celtics have been on a tough free fall. After starting the season 23-5, they have lost 11 of 17 games. Of particular concern is that they are allowing 6 more points per game and are 1-4 in games decided by 4 points or less in their last 17 games.
Game Recap | Box Score | SC Highlight Of The Night | Photos | NBA Standings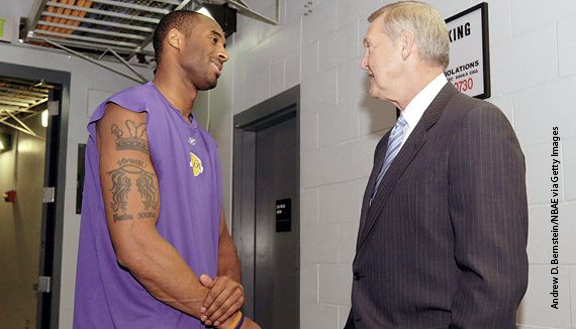 KOBE CLOSING IN ON LAKERS SCORING TITLE:
Kobe Bryant's final basket has him just 28 points from tying Jerry West's Lakers record of 25,192. Kobe's next chance to pass West is at Memphis (preview), Monday. Coincidentally, West was the Grizzlies general manager from 2002 to 2007. If not Monday, Lakers are back home Wednesday -- where Kobe would have a chance to set the mark in front of the home crowd.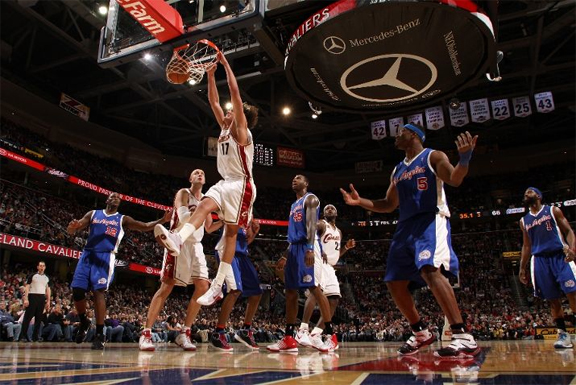 Photo: David Liam Kyle/NBAE via Getty Images
Cavaliers 114, Clippers 89
LeBron James scores 23 1st-quarter points and finishes with 32 points and 11 assists to give the Cavs their 8th straight win. James outscored the Clippers single-handedly in the first quarter 23-20. As a team, Cleveland made 11 1st-quarter threes, tying the NBA record for 3-pt FGs in a quarter (Bucks, March 28, 2006). Cleveland finished with 13 three-pointers in the first half, a new team record. The Cavs' 46 1st-quarter points tied the team record, done two other times, most recently in November 1992. Baron Davis scores a season-high 30 points in a losing effort. The Clippers have lost 8 straight to Cleveland, and 12 of their last 13 road games.
LeBron James outscored the entire Clippers team, 23–20, in the first quarter of the Cavaliers' 114–89 win on Sunday night. That was the highest first-quarter point total by any player over the last two seasons. The last player to score at least 23 points in the opening period was James at Chicago in April 2008 (24 points). This was the second time during January 2010 that James scored at least 20 points in the first quarter of a game. Only one other player did so this season: Kobe Bryant (Dec. 15 against the Bulls).
Game Recap | Box Score | NBA Standings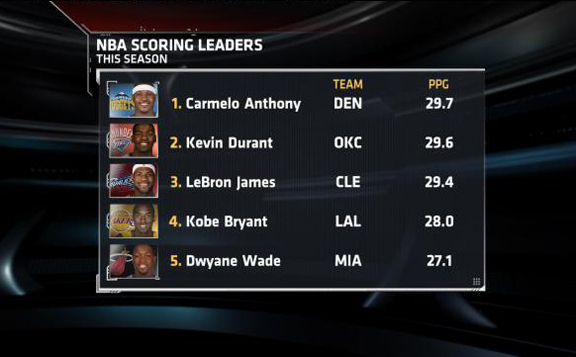 With 45 points last night, Kevin Durant is closing in on the NBA's scoring leader, Carmelo Anthony. Durant is averaging 29.6 points per game while Anthony is at 29.7. LeBron is right in the hunt at 29.4 while you can never count out Kobe and Dwyane Wade, who are at 28 and 27 points per game respectively.
---------------------------------------------------------------
COLLEGE HOOPS:
---------------------------------------------------------------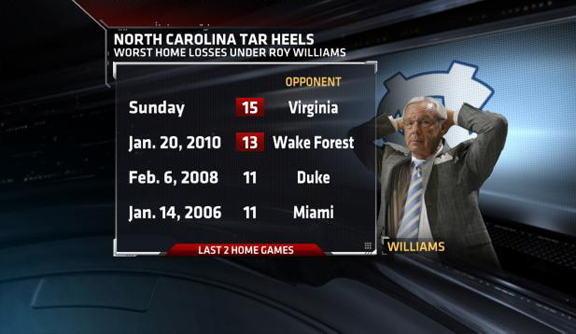 Virginia 75 North Carolina 60
North Carolina has now lost 13 home games during the Roy Williams era (since the 2003-04 season), and the biggest blowouts have come in the last 2 games. Pretty sure Ole Roy's two national titles off-set those. In 3 home losses this season, they've been outscored by a total of 30 points. In the 10 home losses in his previous 6 seasons, they've been outscored by a total of 53 points. Growing pains for a young UNC ballclub.
Game Recap | Box Score | ACC Standings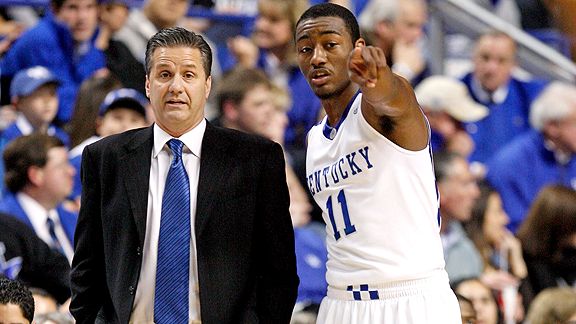 Photo: Andy Lyons/Getty Images
HISTORY USUALLY REPEATS ITSELF:
Although Kentucky lost earlier this week, it's the third time in John Calipari's career his team was the nation's last undefeated team. That's been a good sign for his team's as the previous two reached the Final Four and lost only one game in the regular season.
Last Unbeaten Division I Team Coached By John Calipari
Year - Started NCAA season (result)
'09-10 Kentucky 19-0 (To Be Determined ?)
'07-08 Memphis* 26-0 (Lost Nat'l Champ Game)
'95-96 UMass* 26-0 (Lost Nat'l Semis)
*In both cases, lost to eventual National Champion
Kentucky Home | SEC Standings | Barnes, Calipari discuss upsets
Note: The Elias Sports Burea and ESPN Stats & Information contributed to this report.