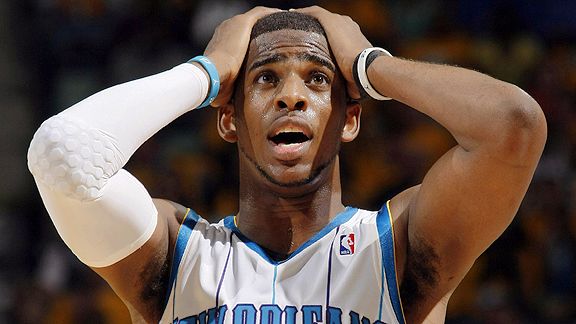 Photo: Layne Murdoch/NBAE/Getty Images
"I can't believe I'm gonna miss the the All-Star slumber party. I was all excited to show off my Hornets footie pajamas."
What dat? What dat? What dat injury gonna beat dem Hornets? The answer came Monday when an MRI revealed more damage than was initially expected to Chris Paul's left knee. New Orleans pronounced the NBA's assist leader out indefinitely and according to sources close to ESPN, arthroscopic surgery will likely be required. As a Hornets fan, what do you do? Do you cross your fingers that the +/- of -116 without Paul on the court is a meaningless stat? Is it time to grab the few seats left on Saints bandwagon and buy up all the Garrett Hartley fridge magnets? There's no simple answer for Hornets fans.
And when it comes to replacing Paul, the NBA's Western Conference All-Star team has to make that decision sooner than later as well. The All-Star Game is less than two weeks away and we assume Mark Cuban and Jerry Jones are already going delirious setting place cards in the NFL's biggest stadium. In an effort to speed up the process we figured we would offer up a few Western Conference players should be in the running to replace Wake Forest's prodigal son.
Monta Ellis: The Warriors guard leads the Western Conference in minutes per game (41.8) and is second only to Gerald Wallace, an Eastern Conference All-Star, who leads the NBA with 42.1 minutes per game. Ellis has started in 44 of Golden State's 46 games and has logged complete games in 10 of them! His crowning achievement came on January 20th against Denver when Ellis played all 53 minutes (regulation and overtime) and scored 39 points in a losing effort. In comparison, Roy Halladay led the MLB with only nine complete games in 2009. Oh, and by the way, Ellis is sixth in the NBA in scoring, averaging 25.8 ppg.
Tyreke Evans: The front-runner for NBA Rookie of the Year (no disrespect to Yung Money) has been tearing it up this season in Sacramento. He leads all rookies in scoring and actually averages more points per game than Chris Paul (20.5 to 20.4). Off the court, Evans enjoys posing in front of lockers and freestyling in front of a webcam. He's also a Virgo which bodes well for his chances. Just kidding, we have no idea how this will affect anything.
Jason Thompson: If you're not going to select Evans, what about his Kings teammate? As Pistons "Bad Boy" Bill Laimbeer would likely tell you, every great team needs an enforcer and Thompson leads the NBA in personal fouls with 184. Kobe and Melo would feel a lot more comfortable driving to the rim knowing the 6'11'' power forward has their back if Howard or KG steps to them in the paint. Plus, Thompson can spit mad game on the mic just like his buddy Tyreke. Do the Kings ever practice?
Sundiata Gaines: Could the fairy tale continue for the Jazz backup guard? After being called up to Utah from the NBA Developmental League in January, Gaines gave us one of the top highlights of the NBA's first half when he drained a game-winning three against the Cavs on January 14th after star point guard Deron Williams left the game with an injury. The game's already got enough in terms of star power. What about keeping a steely, ice-in-his-veins sniper on the bench, just in case the West needs some theatrics at the end of the game?
Kevin Ollie: Ollie only averages 14.1 mpg and 2.5 ppg, but what he lacks in offense he makes up for in experience. Ollie was born December 27th, 1972 and is the oldest player on the Thunder's roster by almost six years. The 12-year veteran would make the perfect chaperon for first-time All-Star Kevin Durant (who turned 21 just five months ago). Texas is the second-largest state in U.S. by both area and population and it would be a shame if Durant got lost and didn't get to defend his H-O-R-S-E title.