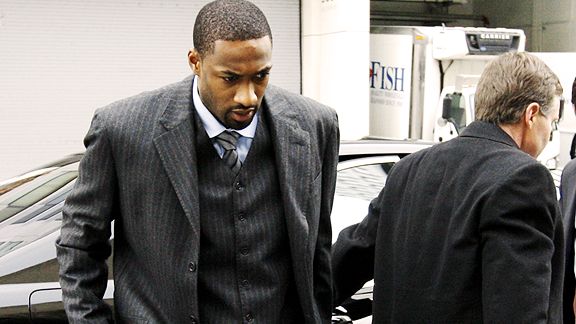 AP Photo/Ann Heisenfelt
Wizards guard Gilbert Arenas took a turn as op-ed writer on Monday. In a Washington Post piece, Arenas discusses the dangers of guns and violence. Arenas again expresses his regret for the actions that led to his arrest and season-long suspension from the NBA.
He says, in part, "I understand the importance of teaching nonviolence to kids in today's world. Guns and violence are serious problems, not joking matters -- a lesson that's been brought home to me over the past few weeks. I thought about this when I pleaded guilty as charged in court and when I accepted my NBA suspension without challenge."
Arenas was investigated after bringing four guns with him into the Verizon Center before practice in December. He pleaded guilty to felony weapons possession and accepted his suspension without appeal.
Read the full submission here.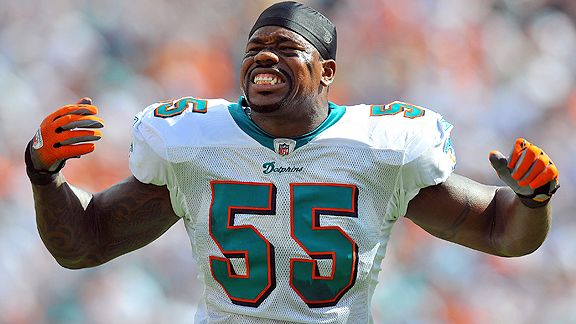 Steve Mitchell/US Presswire
Dolphins LB Joey Porter is ready to move on. As a guest on ESPN's Jim Rome is Burning, Porter said the team is asking him to become a role player - something he's not ready to do. He suggested the best solution would be for Miami to trade him.
"When you're winning, all of this stuff is (swept) away," he said on the show, "but after seeing how last year went, asking me to come back and play that role again, I can honestly say I won't come back to do that. I can't be happy about coming back playing that role."
The pass-rush specialist has 32 sacks in the past 3 seaons as a Dolphin. His 92 sacks place him second on the active-sacks list behind teammate Jason Taylor, and he was recently named to the 2000's All-Decade team.