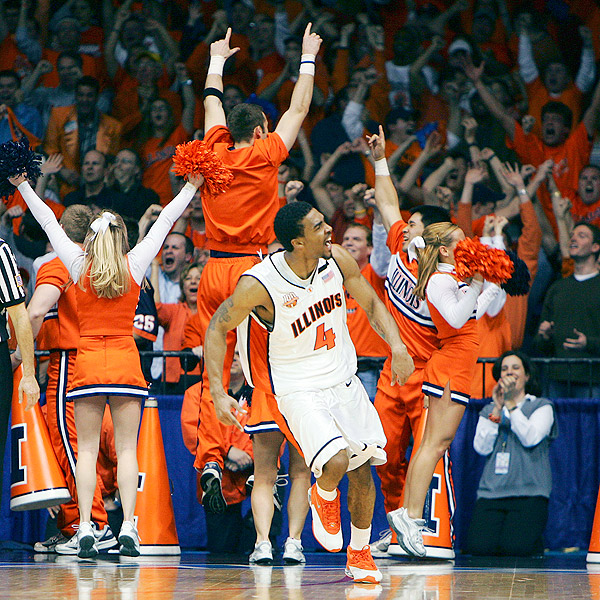 Photo: AP Photo/Jeff Roberson
Could you imagine how happy the cheerleaders would be if they were actually facing the action?
The NCAA may finally be changing its championship format, but it's not the BCS that could be undergoing the metamorphosis. That's right, the music may have finally skipped at the Big Dance. According to Sports by Brooks, the NCAA tournament could be expanding to 96 teams as early as next season. And Seinfeld thought he was living in a bizarro world.
As of now no decision has been made, but NCAA senior vice president Greg Shaheen did tell FoxSports.com that the NCAA is in fact exploring their options. "We are looking into all the possibilities," Shaheen said. "We have to look into it, but we don't even know if we'd do it. Just because we're checking into it doesn't mean we're going to do it. ... Have we talked to people in our membership about expanding? Absolutely." Shaheen should be made aware that sometimes expansion doesn't go as planned. Look what happened to Saved By the Bell when Zack, Screech and Slater added Mike Rogers (Bob Golic) to their clique; it was one and done for the College Years.
If the NCAA does expand to 96 teams, how does that affect David Barrett's inspirational song, "One Shining Moment," at the closing of the tournament? The present cut of the song is roughly three minutes long, but in order to incorporate another 31 schools into the montage the NCAA would likely have to add another nintey seconds. Do they play the song in super slow-mo or is it time for the One Shining Moment Mash-Up Remix?
Coincidentally, the NCAA's contract with the NIT Tournament also expires at the end of this season and a possible scenario would be to take 31 of those 32 teams and add them to the field of 65. If you thought it was traumatic being the last kid picked in kickball, try being that one team who gets their bubble burst in the field of 96.
Ultimately, the people who stand to gain the most from a possible expansion could be the college students themselves. If websites are giving away $12 million for picking the perfect bracket with 65 teams, there's no telling what they'd do for 96. How about a $100 million meal card? Do you know how many pounds of beef stroganoff that can buy?