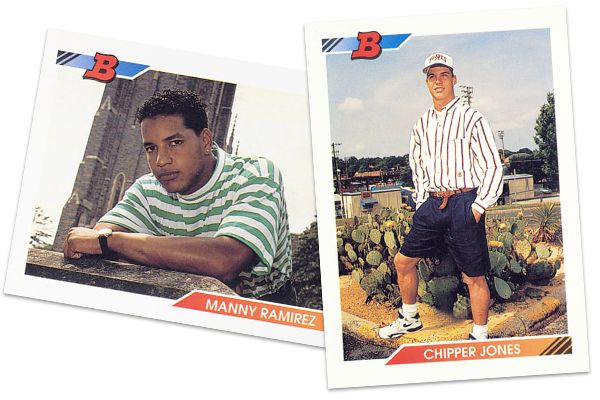 courtesy of Gregg Forwerck
Manny and Chipper rock Upper Deck's new look on Bowman cards years before MLB got involved.
Exclusivity contract? The Upper Deck Company "don't need no stinkin' contract" to print cards with pro players on them, even though MLB claims they're violating the league's deal with Topps. Their recent decision to distribute Signature Stars, UD Base Series One and Ultimate Collection lines (even with "NOT authorized by Major League Baseball or its Member Teams" splashed on the packaging) is enough for Bud Selig to release the hounds lawyers on 'em.
We're not endorsing Upper Deck's decision, but in case they were looking for inspiration with future lines:
Hombres Wearing Jewelry – Josh Beckett is the top chase card in this display of quality ice.
Fun with Costumes - Who would've thought that a Green Man suit would look so slimming on C.C. Sabathia? Is that Matt Kemp disguised as The San Diego Chicken?
Celebrity Car Wash, Athlete Edition – Evan Longoria is not only a slick-fielding third baseman, he's also dynamite with a squeegee.
Postcard Series – Follow the global adventures of Men of Leisure such as the Upton Brothers and their hunt for pirate gold. Luggage tags inserted into random packs.
Where I Would Have Gone to College – Roy Halladay kicks off this subset toting a bookbag and looking wistfully at the gates of USC.
Thespians in the Wings – We're looking for Charlie Manuel as King Lear and Tim Lincecum as Biff in "Death of a Salesman."
Also, now that Upper Deck can't include uniform swatches in their inserts, let's hope they find alternative memorabilia that isn't human hair.