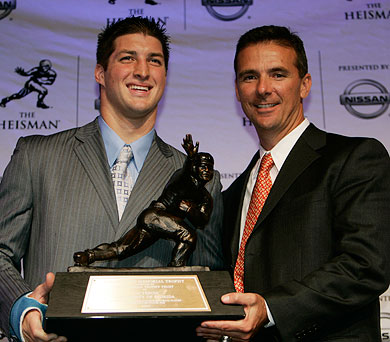 SIGNING DAY
Miles away from the Super Bowl in Miami - 338 or so, up in Gainesville - your Florida Gators are waking up with the nation's best signing class so far (according to our good friends over at ESPN Scouts Inc.). They've finished with the nation's top-ranked class in two of the previous four years, including in 2006, when they inked a future Heisman Trophy winner (you might know him as Tim Tebow) and an NFL Offensive Rookie of the Year (say hello to Percy Harvin). The SEC seems to be leading the way so far, but stay with SportsCenter all morning long as hands all over the country start picking up pens. Because what else would hands do?
More from The Rundown, including word of a rift between Pau Gasol and Kobe Bryant, the first words from an interview with Plaxico Burress in prison, and words at school delayed on Monday in Indy, after the jump.
RIFT IN LOS ANGELES?
Six wins for your Lakers on an eight-game road trip would have been nice. But Kobe and Pau and Co. got just five instead of six, and Mr. Gasol thinks it's because Mr. Bryant was too focused on Mr. West. He told the Orange County register, "Now we can focus on winning games again." Which would be good for Phil Jackson, since he's currently tied with Pat Riley for the most wins in franchise history. To get there, Pau would like to see "a concerted effort at pounding the ball inside." But with the Bobcats in town tonight, don't forget that Kobe is now just 71 points behind Reggie Miller.
"I will play again."
- Plaxico Burress gives his first interview from inside prison, and gives his plans on what will happen when he's outside of prison.
MAYBE NOT EXACTLY THE OLYMPIC IDEAL
A taekwondo athlete is auctioning off the brothel he opened in order to cover his expected costs to compete for New Zealand at the 2012 Olympics in London. He expects to raise $210,000. Bidding starts at $1.
"A two-hour delay provides a compromise that ensures our children will arrive at school safely."
- Dr. Eugene White is the Indianapolis Public Schools Superintendent, and thinks it's prudent to start classes late on Monday after the Colts play Super Bowl XLIV on Sunday. It could be because back after the Colts won Super Bowl XLI in 2007, the system was forced to cancel classes after too many bus drivers did not pick up any children. But still, some parents aren't happy with the plan. One mother saying, "My son danced in 'The Nutcracker' and they wouldn't give him an excused absence for that." Hmmm. Hard to argue with that one.
You don't have to worry about The Rundown being delayed on Monday. It will still be there bright and early. Just so long as you sign up for it here.