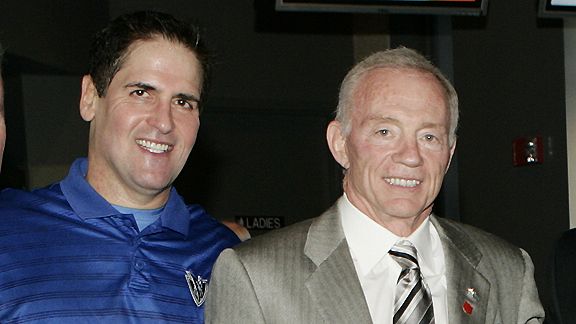 Glenn James/NBAE/Getty Images
Don't be scared. Mark and Jerry are only thinking of ways to squeeze you into Cowboys Stadium.
With NBA All-Star Weekend approaching like a stampede of prized cattle, the league announced that more than 90,000 fans will attend the game at Cowboys Stadium. That figure will trample the previous basketball attendance record set when 78,129 witnessed Michigan State versus Kentucky on 12/13/03 at Detroit's Ford Field. It'll also double the size of the biggest crowd at an All-Star game when 44,735 packed into the Houston Astrodome in '89. However, impressive as the 90,000 mark may be, it's not Texas-sized enough for party hosts Jerry Jones and Mark Cuban:
"Well, we want to push the magical number and we think we have an opportunity here," said Jones. "We're well along the way right now: one-double-0." Nobody likes making Arlington fire marshals sweat like the Cowboys' owner.
"If the NBA will let it go to 95," added Cuban. "There's no reason why it can't go to 100." He's probably looking for the knob that cranks the crowd up to 111. We wouldn't be surprised if they managed to make it work, even if Mark has to scoop free ice cream by himself.
With their special brand of boosterism, is this Billionaire Boys Club the greatest tag team since Whoomp! (There It Is), the Superman and Batman of sports, sent to save us from boredom? Or are they the equivalent of Lex Luthor and the Joker, plotting our eventual fan destruction? By pooling their resources, they could play either role:
As Good Guys:
Construct a giant weather machine to ensure that every game is played under optimal conditions.
Launch Hubble TV into the atmosphere, the only celestial monitor fan-kind can see from Earth with the naked eye.
Use a time travel device to literally replay every blown call ever made.
As Bad Guys:
Use the giant weather machine to delay every opposing team's flight.
Unleash an army of obnoxious burly henchmen to increase the jerk factor in sporting events exponentially.
The All-Star Game tips off in Dallas 8 ET on Sunday Feb. 14.