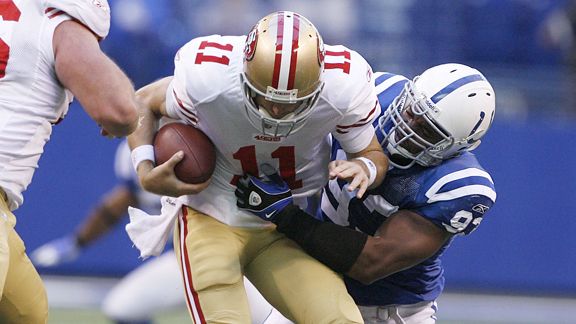 Brian Spurlock/US PressSTar wire
Freeney Improving Daily
It was thought Colts DE Dwight Freeney wouldn't practice before the Super Bowl, but now Freeney thinks he will step out on the field Friday to see what he can do. Freeney has a torn ligament in his ankle but has been receiving constant treatments for the past two weeks in Miami. He said today it is gradually improving and he still hopes he will be able to not only play in Super Bowl 44, but be effective when he does.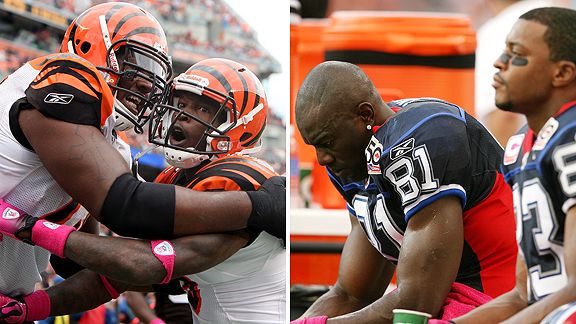 Getty Images
Ochocinco and Owens in Cincy?
Bengals WR Chad Ochocinco said another former Pro Bowl WR, Terrell Owens, will be joining him in Cincinnati next season. Ochocinco said Thursday on Jay Glazer's Pre-Party Show on Fox that he is "sure of it." The Bengals already have two 30+ WRs on the roster, (Ochocinco, 32, and Laveranues Coles, 31) so adding the 37-year-old Owens might not be in the plans for the team. Owens will be a free agent after his contract with the Bills officially expires on March 5th, but until then he remains their property and cannot negotiate with any other team. Regardless, just making the statement will have the NFL world buzzing until Owens signs with somebody this off season.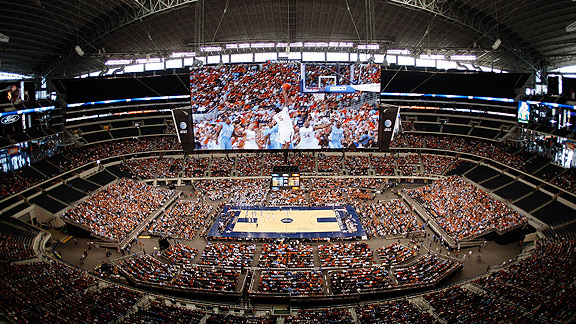 Ronald Martinez/Getty Images
NBA All-Star Game To Break Attendance Record
The 2010 All-Star game, being held at Cowboys Stadium, is expected to shatter the all-time attendance record for a basketball game. Cowboys Stadium has a capacity of over 100,000 and 90,000+ are expected to be in attendance February 14th. The previous record of 78,129 was set December 13, 2003 for a Kentucky vs Michigan State basketball game. Mavericks owner Mark Cuban is hoping to go even higher.
"If the NBA will let it go to 95," Cuban said, "there's no reason why it can't go to 100."