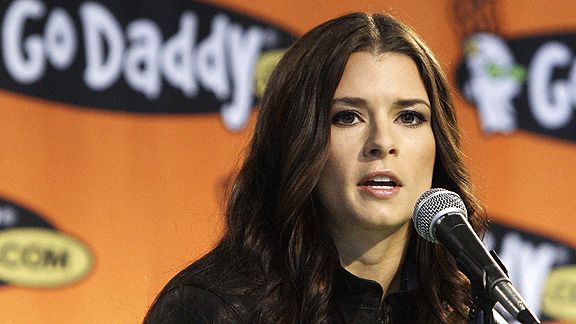 AP Photo/Ross D. Franklin
How will Danica Patrick finish in her stockcar debut Saturday? Find out more at GoDaddy.com.
The big day is nearly upon us. And as Tim Tebow Commercial Day Super Bowl Sunday closes in, it can be easy to lose track of everything but box pools, dip recipes and the Manning family tree. Good thing there's a whole slate of pre-Super Bowl sporting events this weekend guaranteed to wet your whistle for Sunday's big game. Stick to this schedule, and you'll be in Super Bowl cheering shape in no time. Please enjoy responsibly.
Get Ready to Hear Some "Safety School" Chants – Saturday at noon (ET)
It's a big ole rivalry game as No. 2 Villanova (20-1) heads south to face No. 8 Georgetown (16-5). The rivalry all started back in 1985, when Villanova knocked off the dynasty that was John Thompson and Patrick Ewing's Georgetown team in the NCAA title game. It has since been fueled by countless Big East matchups and an argument over which Catholic order is better, Augustinian (Villanova) or Jesuit (Georgetown).
Villanova won this year's last meeting in January, but Saturday's game is bigger than a rematch, bigger than religion and bigger than history: with a win, Nova could potentially lock up a No. 1 ranking. But whoever wins or loses, can't we all agree we're glad basketball fashion has changed significantly since 1985?
Danica Drives the Hype in Her Stockcar Debut – Saturday at 4:30 (ET)
Danica Patrick is scheduled to take her first steps toward NASCAR fame (or infamy or utter mediocrity, depending on how it all turns out) at the Lucas Oil Slick Mist 200 at Daytona. It will be Danica's stock car debut and may well affect her decision to race in Feb. 13's NASCAR Nationwide race at Fontana, Calif. Still, it probably won't be Danica's most attention-grabbing performance of the weekend. Not with her slated for another too-hot-for-TV Go Daddy.com ad.
The NBA Gets Streaky With It – Saturday at 9 (ET)
Two of the NBA's biggest shows on hardwood (the Utah Jazz and Kevin Durant, in no particular order) hit the court again tonight. First it's the Shake and Bakes from the Great Salt Lake, the Utah Jazz, taking on the Denver Nuggets. The teams are 1 and 2 in the Northwest (Nuggets and Jazz, in that order) but Utah is trying to become the first team in the NBA this season to win eight straight games all by at least seven points. They've won their last seven in a row in that manner, matching the Lakers. If you want to be part of this semi-historic event, good news – you can be! Just enter to "become a Jazz player for a day." We have no idea what that means, but we're pretty sure you have to get a tattoo.
Later (10: 30 ET) it's the KD and friends show as Oklahoma City visits the Golden State Warriors. Durant's looking for his fifth straight game with at least 30 points and his 30th game overall with 30 or more. Three more such games and he'd hold the franchise record for most 30-point games in a season (besting Dale Ellis' 31), a stat that's sure to send this guy into an even deeper depression.
Glen Davis Helps Right the Celts' Ship – Sunday at 2:30 (ET)
The Celts had a three-game meltdown losing streak at the end of January. Paul Pierce has a bum ankle. The team is bickering. Danny Ainge doesn't seem to know what he wants to do with Ray Allen and his huge expiring contract. And Rasheed Wallace is criticizing refs. Still, the Celts seemed to turn it around in a win over Miami Wednesday and Sunday's game against Orlando (No. 2 in the East, the Celtics are No. 3) will be a true litmus test as to what the rest of the season may hold. At least Glen Davis has settled on a new nickname, The Eleventh Hour. Phew. That must be weight off Doc Rivers' shoulders. Enjoy the weekend, folks!