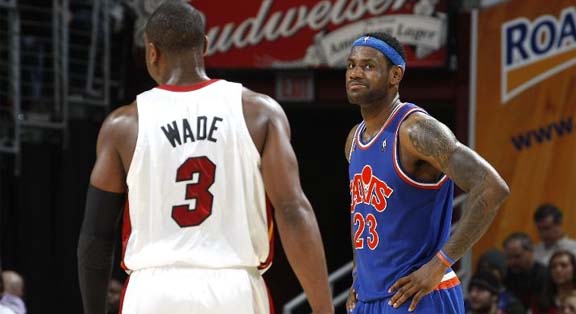 IF YOU CAN'T BEAT HIM, JOIN HIM?
Daniel Gibson was supposed to start for the Cavs at the point, but instead he started last night's game against the Heat in the hospital, watching it on TV. (His pregnant fiance had been rushed there for precautionary reasons.) So that meant LeBron started at the point, and he responded by showing off with 8 assists. Gibson responded by showing up for the second half and sinking two key threes in the fourth. In the end, LeBron put up 36/8/7 in the 16-point win. Dwayne Wade put up 24/9 in the loss - his eighth loss in the last nine games against LeBron.
More from The Rundown, including Kobe Bryant getting healthy (or not), Danica Patrick getting practice, and Lane Kiffin getting a 13-year-old, after the jump.
BLACK AND BLUE MAMBA
Kobe Bryant skipped practice yesterday with a gimpy ankle (medical term). Whether or not he plays tonight against the Nuggets is likely to be a game-time decision. If not, it would end a pretty impressive streak. Kobe hasn't missed a game in more than three years. Any game. That includes the 2007 Olympic Qualifying (10 games), the 2007-08 NBA regular season (82), the postseason (21), the pre-Olympic Tour (5), the Olympics (8), the 2008-09 NBA regular season (82), the postseason (23), and the 2009-10 NBA regular season (50, so far). That's 281 games right there. In fact, he hasn't missed a game due to injury since December 8, 2006 against the Hawks. He had a sprained ankle.
JOAN OF ARCA
Danica Patrick takes her stock car out for some practice this morning (11:00 am ET). Tomorrow, she'll take it out for some real rubbin' and racin' in the ARCA series at Daytona. That comes ahead of races in the Nationwide Series and hopefully (probably?) the Sprint Cup Series. But given the struggles of IRL drivers in NASCAR (see also: Sam Hornish, Jr. and Dario Franchitti) why now? As Jay Hart of Yahoo! Sports explains, that's probably exactly why now.
"I'm very excited but I was very, very nervous. It was very cool [to talk to Kiffin] but my heart was beating so fast, and I was scared. But after it was over, I was so excited and pumped."
- David Sills made a verbal commitment to accept a college football scholarship from USC. David Sills is not even in high school yet. David Stills is a seventh-grader.
You should get excited (if not very, very nervous) to get The Rundown each morning. If you aren't, then click here. Instant excitement.