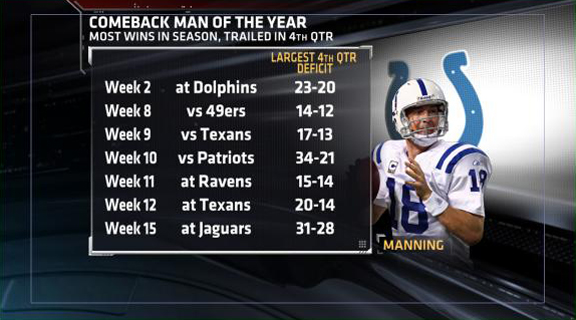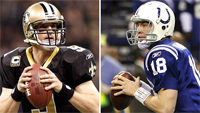 Getty Images
Both Manning and Brees have thrown 122 TD's over the last 4 seasons.
THE COMEBACK MVP: The Colts have certainly made it interesting this year - of their 16 regular season games - 8 were decided in the 4th quarter. Including twice against both Houston (wk8 and wk12) and Jacksonville (wk1 and wk15) . All 8 times Indianapolis has emerged victorious. Peyton Manning is trying to become the 15th man to win an MVP award and the Super Bowl in the same season. No one has done it since Kurt Warner in 1999. Both Manning and Brees have been front-and-center in touchdown passes over the last 4 seasons - throwing 122 TD's. Tony Romo (107) and Philip Rivers (105) round out the top 4 since 2006.
After the Jump, find out why the Colts coaching staff is having nightmares about Drew Brees and the Saints high-octane offense.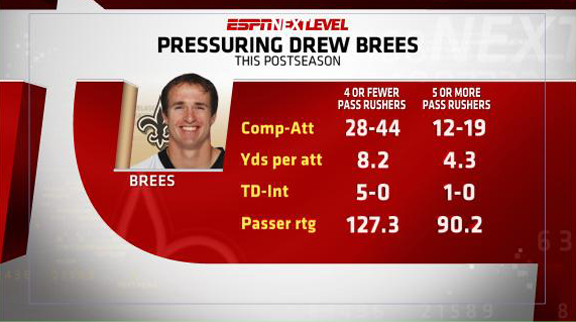 WE TAKE YOU NEXT LEVEL: There might not be any stopping Drew Brees, but so far this postseason you can slow him down slightly if you send 5 or more rushers. Brees is averaging 8 yards per attempt when the opponent rushes 4 or fewer - just 4.3 yards per attempt when facing 5 or more in pursuit. So who is going to win Super Bowl XLIV? We asked our friends at EA Sports to run a simulation of the big game, and here's an inside look at the winner. The Super Bowl will mark the 4th time this season that Drew Brees has faced a former Super Bowl MVP, this time in the form of Peyton Manning. The 3 quarterbacks he faced this season were Eli Manning, Tom Brady and Kurt Warner. Brees has been unreal in those games, posting a combined passer rating of 152.8.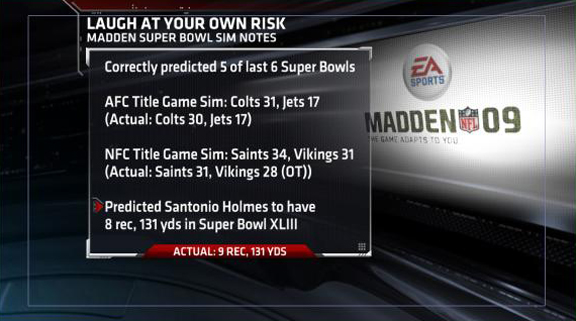 SUPER BOWL XLIV WINNER: Some of you might be skeptical of these, but the Madden simulations have correctly predicted 5 of the last 6 Super Bowls. In this season's conference title games, it missed on the final score in the AFC championship game by 1 point and correctly predicted the Saints 3-point win over the Vikings. It doesn't just stop at the score: In last year's Super Bowl simulation, it predicted Santonio Holmes would have 8 catches for 131 yards. For the record, HE HAD 9 CATCHES FOR 131 YARDS and took home MVP honors. So who wins the game? The Saints win 35-31 and DREW BREES gets M.V.P. honors - 299 yards, 3 touchdowns and 1 interception and Sean Payton gets the Gatorade shower.
GORILLA PICKS SAINTS TO WIN: If EA Sports prediction wasn't good enough, we decided to get a second opinion. As sports analysts around the country announce their Super Bowl XLIV picks, the Fort Worth Zoo's female gorilla made her Super Bowl pick this week. The Zoo's prognosticating primate choose the Saints as the winning team from two paper maché footballs decorated to match each team and filled with the game day treats peanuts, popcorn, grapes, raisins and Great-Ape biscuits.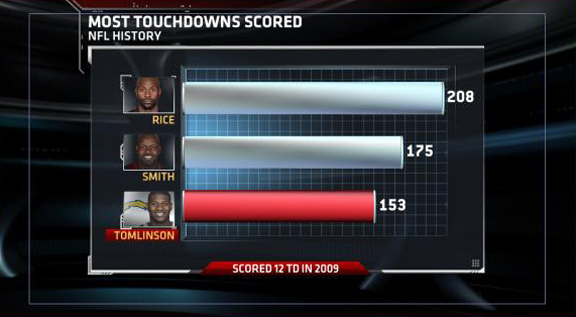 TOMLINSON READY TO TURN IN HIS BOLT HELMET: Hard to imagine LT not wearing Chargers helmet anymore, but it looks like the 5x All-Pro has played his last down in a Chargers uniform. The San Diego Union-Tribune reports that LaDainian Tomlinson says he will not return next season. He went on the record and said:
I'm not coming back, I don't believe I'll be back in San Diego. I've accepted it. I've been praying and meditating, after doing that for a couple weeks, I just felt like it was over. It's a mixed feeling. It's mixed emotions. I've spent nine years of my life here, pretty much my youth. But there is a part I won't miss. The football part is fun. But the business part sucks. I won't miss that."
Doing what we do best, lets look at LT inside the numbers.
153 - LaDainian Tomlinson's 153 touchdowns scored is good for 3rd most in NFL history trailing Jerry Rice who has 208 touchdowns and Emmitt Smith who has 175.
12,490 - LT's rushing total of 12,490 with the Chargers is the 4th most rushing yards with one team in NFL History.
138 - Tomlinson's 138 career rushing TDs are 2nd-most in NFL history, 26 away from Emmitt Smith's NFL record.
28 - LT had 28 rushing touchdowns in 2006, setting the NFL's single-season record that stands today.
146.9 - He might be a running back, but LT has thrown 7 TD's in his career, with a career high of 3 in 2005 and he has a career passer rating of 146.9 - take that Drew Brees (91.9)!!!
-------------------------------------------------------
IN THE ASSOCIATION:
-------------------------------------------------------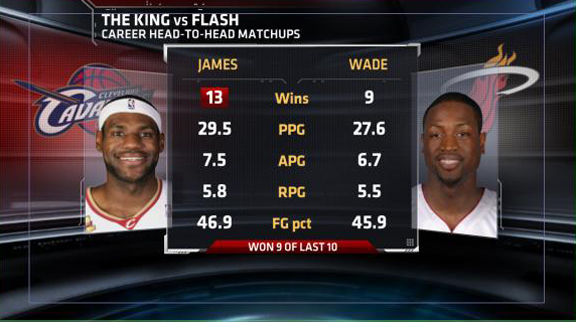 The Cavaliers win their 10th straight game (3rd double-digit win streak in LeBron James era since 2003-04). Cleveland has outscored its opponents by 10.9 points per game during the streak. LeBron James scores 36 points including 17 of 21 foul shots. The 17 foul shots made are a season high and the 4th-highest total in James' career. The Cavaliers are 3-0 against the Heat this season and LeBron has won 8 of the last 9 head-to-head meetings with Dwyane Wade. This was the third meeting between Dwyane Wade and LeBron James this season and the first time where both didn't score at least 30 points each. LeBron and the Cavs sweep the 3-game series with the Heat this season.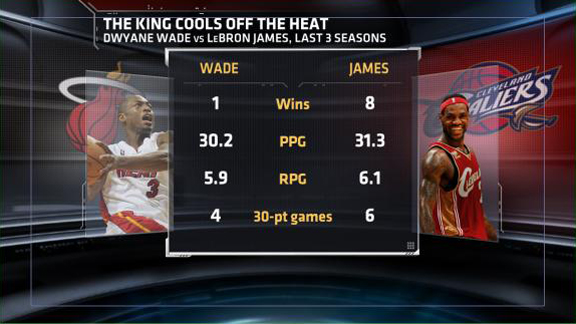 -------------------------------------------------------
ON THE COLLEGE HARDWOOD:
-------------------------------------------------------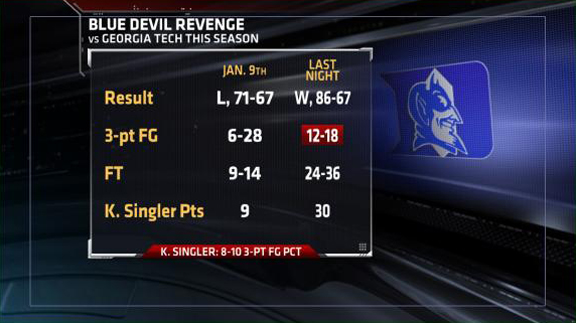 (9) Duke 86, (19) Georgia Tech 67
Duke avenges its 4-point loss to Georgia Tech earlier in the season (Duke's first ACC loss) and has bounced back from each of its four losses this season with a win by 9+ points. Kyle Singler scored a career-high 30 points, the third 30-pt game by a Duke player this season (Jon Scheyer has the other two). Duke extends its home win streak to 15 games. Georgia Tech is 1-11 in its last 12 ACC road games. Foul trouble was a major storyline for the Yellow Jackets, who committed a season-high 28 fouls, 4 more than their previous high. Highlight
Virginia Tech 74, North Carolina 70
North Carolina falls to 2-5 in conference play, its worst start since going 2-6 in the 2002-03 season. It's also 5 losses in 6 games for the 'Heels, the first time THAT's happened under Roy Williams (lost 5 straight in '02-03). It's not often we have this discussion, but it's February and the North Carolina Tar Heels are on the bubble. And here is why:
The defending national champions have lost 4 of their past 5 games, all in ACC play, and have broken 70 points only once.

The schedule doesn't get any easier as North Carolina has 5 road games in February, starting Thursday night in Blacksburg and let's not forget, two games with arch-rival Duke.

Since the new year began, North Carolina has struggled winning just two of eight games...11 of the Tar Heels 13 wins this season came before New Year's.

Carolina has lost five of its last six games... the first time that has happened under Roy Williams.
-------------------------------------------------------
COLLEGE GRIDIRON:
-------------------------------------------------------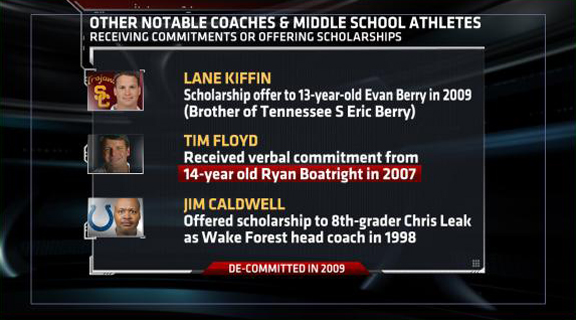 13 YEAR OLD COMMITS TO USC: Lane Kiffin's looking ahead, WAY ahead for his newest recruit, for the 2015 class...13 year old quarterback David Sills verbally committed to USC after Kiffin offered him a scholarship yesterday. Sills is a 5-foot-11 and 136 pound seventh-grader, with doctors having told him he will grow to be 6-foot-5. Other notable commitments or scholarship offers to Middle School athletes include Lane Kiffin offering 13-year old Evan Berry, brother of All-American safety Eric Berry a scholarship last year...In 2007 Tim Floyd, then the USC basketball coach, received a verbal commitment from 14-year-old Ryan Boatright...and in 1998 Jim Caldwell, as head coach of Wake Forest, offered 8th grader Chris Leak a scholarship...
-------------------------------------------------------
ON THE ICE:
-------------------------------------------------------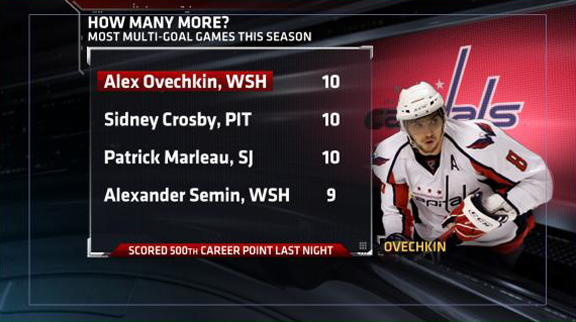 While posting his league-leading 10th multi-goal game this season last night, Alex Ovechkin scored his 500th career point in the Capitals 6-5 win over the Rangers. At 24 years and 140 days, Ovechkin is the youngest player to reach that milestone since Jaromir Jagr did so 9 days after his 24th birthday in February 1996. The Capitals rallied from a 5-3 deficit late in the 2nd period to extend their winning streak to 12 games. Washington also became the first team in more than a decade to win more than 10 straight games (11) in regulation time, the began this winning streak without a shootout win.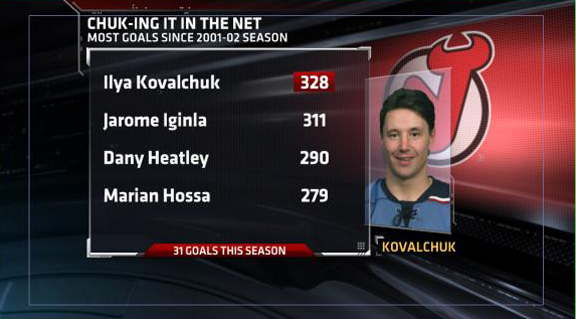 DEVILS ADD MAJOR FIREPOWER: Ilya Kovalchuk was traded to the Devils by the Thrashers on Thursday night. He leads all NHL players in goals (328) and power play goals (115) since he entered the league in October 2001. The only other player with at least 300 goals over the last eight seasons is Jarome Iginla (311), and the only other player with 100 or more PPGs over that span is Dany Heatley (111).
-------------------------------------------------------
IN THE OCTAGON:
-------------------------------------------------------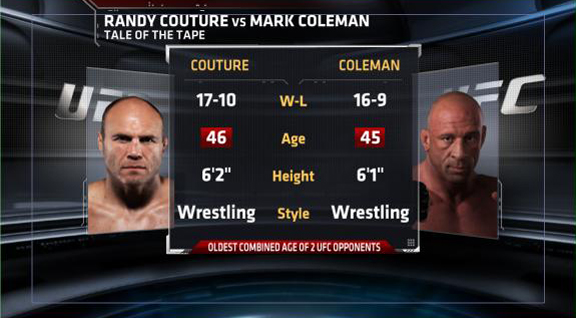 UFC 109: Live from the Mandalay Bay Events Center in Las Vegas, UFC 109 provides a great card, headlined by the meeting of two active Hall of Famers - one perhaps relatively unknown to new fans is Mark Coleman...the other, a legend of the sport...the Natural, Randy Couture.
Note: The Elias Sports Bureau and ESPN Stats and Information group contributed to this report.