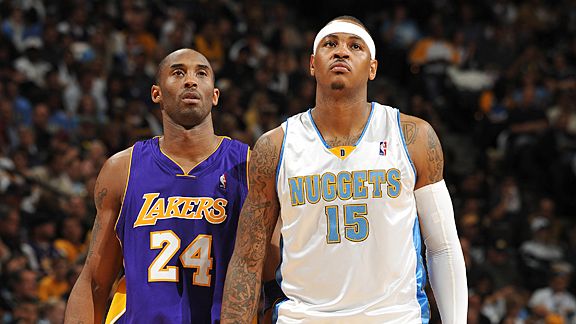 Garrett W. Ellwood/NBAE/Getty Images
MISSING STARS:
Lakers Kobe Bryant will be a game-time decision tonight versus the Nuggets. Lamar Odom inadvertently stepped on Kobe's left foot, which led to re-aggravating Bryant's injured ankle. Carmelo Anthony is unlikely to play for Denver with a left ankle sprain. Kobe may be in jeopardy of halting his 234 consecutive games played streak, which ranks fifth amongst active players.
More: Game Preview | Bryant has sprained ankle | ESPNLosAngeles.com Lakers Blog: Land O' Lakers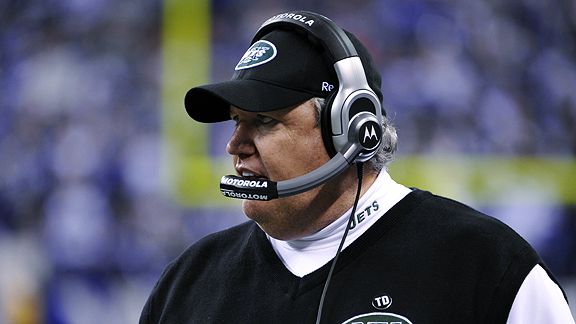 Scott Rovak/US Presswire
THE STORY BEHIND THE FINGER:
Rex Ryan's single finger salute at a Miami MMA event has a back-story. Jay Glazer of Fox Sports, who was with Ryan at the time of the incident, says the Jets coach was heckled. Glazer explained, Ryan was cursed at and spit at 3 times by unruly Miami Dolphins fans. It was only when the boisterous coach was leaving that he hailed the 50-thousand dollar bird.
WE WANT FAVRE:
A Facebook group called "4 MILLION VIKINGS FANS WANT BRETT FAVRE BACK IN MINNESOTA FOR 2010" put up a Billboard in Favre's home town of Hattiesburg, Mississippi. The electronic sign reads: "Hey #4, do Minnesota fans love you and want you back next year? You Brettcha!"...and so the Favre watch begins.