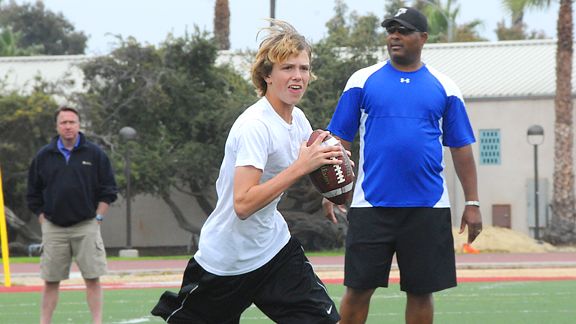 Courtesy of the Sills family
David Sills, coming soon eventually to a BCS Championship near you.
While USC was waiting for recruit OL Seantrel Henderson to sign (he chose USC but won't sign until the school appears before an NCAA committee) it got a nice little bonus in the form of a 13-year-old quarterback from Bear, Del. Ladies and gentlemen, introducing David Sills.
Yes, little Davey (OK we don't know if people call him that but we'd like to start the trend … now) made a verbal commitment to Trojans coach Lane Kiffin Thursday. So in case you've missed the details: Davey's in seventh grade. He'll be a college freshman in 2015, five years from now. And he has committed USC and first-year coach Kiffin. Good. Now that we're all on the same page, we have some questions.
Who will be calling the shots when Sills is calling the signals?
Will it still be Lane Kiffin? Because if we look back at Kiffin's last five years – USC, then Oakland (NFL), then Tennessee, then USC again – the prospect of him remaining in one place for more than a year seems slim. Although it seems like USC is where Lane's always wanted to be. Unconfirmed message board rumors say his children had USC bedspreads even when he was coaching the Vols. So, we'll take that for what it's worth (which is not "nothing" but it's not far away).
WWUMD (What Will Urban Meyer Do)?
The Florida coach must be stressed that he's already losing the 2015 recruiting battle. Will he start mining elementary school recesses throughout the Florida panhandle? Will he start approaching pregnant women in the street and offering their baby bumps full scholarships? Or will he take it one step further and start pairing current Florida male and female athletes to create the perfect little quarterback for the Class of 2028? Watch out, Tim Tebow.
Who is Steve Clarkson and what kind of voodoo sorcery does he dabble in?
We know he's Davey's personal quarterback coach and something of a QB coach to the stars, having mentored current USC signal caller Matt Barkley, Jimmy Clausen, Terrelle Pryor, Joe Montana's kids and Wayne Gretzky's kid. And we know before that he was a former CFL player and restaurant district manager. And we know that he refers to himself as "Dreammaker" and charges up to $8,500 a month for his services. What we don't know is if he's a classic example of the American Dream or a classic example of what happens when you meet a wizard disguised as a grocery bagger who says he will grant you one, and only one, wish.
So, that song in the background of Sills' highlight video …
It's called "All Kinds of Time" and it's by Fountains of Wayne. Were they just waiting for Davey to come along when they wrote it? If so, does the fact that the NFL, the TV shows Scrubs and Friday Night Lights, and the movie The Devil Wears Prada also used the song cheapen the moment?
Who's the bigger BMOC athlete at USC? Davey or Lil' Romeo?
Points in favor of Lil' Romeo: he actually goes there now, he's already had a successful (?) music and movie career, his dad's Master P. Points against Lil' Romeo: He's on the hoops team but barely plays. Points in favor of Davey: He's being called the biggest sports phenom since Tiger Woods. Points against Davey: He's being called the biggest sports phenom since Tiger Woods and he doesn't actually go to USC yet.
What would it take for Davey to back out of the commitment?
Just because he gave a verbal doesn't mean he has to go to USC. Would an offer from the Colts sway things? Jim Caldwell does have a history of locking up young talent – while he was coaching at Wake Forest he made a scholarship offer to Chris Leak, who was then an eighth-grader (Caldwell signed Chris' older brother, C.J. Leak). Stranger things have happened (see: this whole story). And Peyton can't play forever.