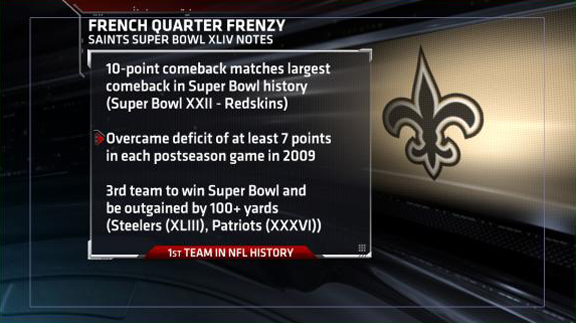 Super Bowl XLIV - Saints 31, Colts 17
WHO DAT: The Saints score 31 of the game's final 38 points to bounce back from a 10-0 deficit and win Super Bowl XLIV, the first Super Bowl championship in the franchise's 43 seasons. New Orleans is the first team to win in its Super Bowl debut since the 2002 Buccaneers defeated the Raiders in Super Bowl XXXVII. The Saints 10-point comeback win matches the largest comeback in Super Bowl history (1987 Redskins overcame 10-0 deficit to beat Broncos in Super Bowl XXII). The Saints became the first team in NFL history to win 3 games in a single postseason in which they trailed by at least 7 points in each game and just the 3rd team to win a Super Bowl despite being out-gained by at least 100 yards. Box Score | Play-By-Play | Drive Chart
More - Clayton: Brees shines as Manning falters | Wojciechowski: Don't turn out the lights on the party
After the jump, more amazing numbers from the Saints' Super Bowl victory, and find out who's the favorite to win Super Bowl XLV in Dallas.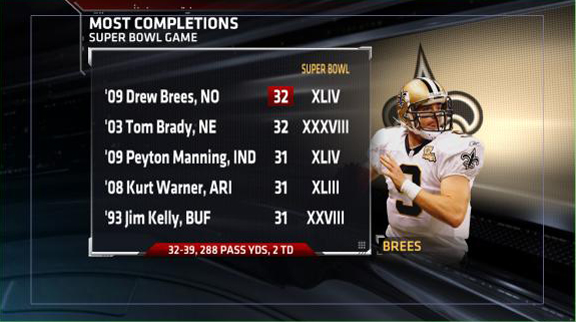 SUPER BOWL MVP: Drew Brees completes 32 passes, that ties a Super Bowl record which was previously held by Tom Brady, who also had 32 completions in Super Bowl XXVIII against the Panthers. Drew Brees' completion percentage of 82.1 is the second-highest in a Super Bowl game, second only to Phil Simms who completed 88 percent of his passes in Super Bowl XXI.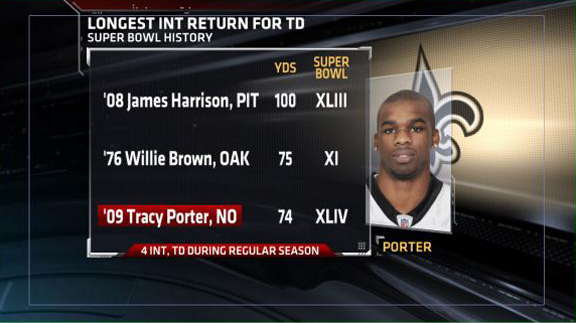 GOING, GOING, GONE: Tracy Porter's 74-yard interception for a TD arguably could be the biggest TD in Saints history. But it's the third longest interception returned for a TD in Super Bowl history. It was the 12th INT returned for a TD in a Super Bowl.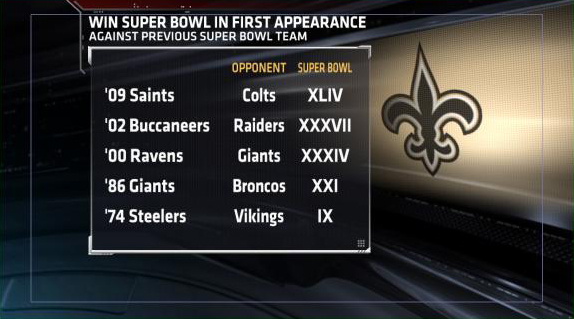 HAIL TO THE VICTORS: Before the Saints win on Sunday over the Colts, teams making their first Super Bowl appearance against teams that had previously been to a Super Bowl were a combined 4-and-15 in those games. Winning the title in your first opportunity doesn't happen often. The last time it was done in baseball was by the Angels, who beat the Giants in 7 games in the 2002 World Series. The next year it happened in the Stanley Cup Final as the Tampa Bay Lightning won a 7-game series over the Calgary Flames. Two years later in their first visit to the NBA Finals, the Miami Heat won their first title with a six-game victory over the Dallas Mavericks and the Saints on Sunday become the first since the Buccaneers in Super Bowl XXXVII to win in their first try at the big game.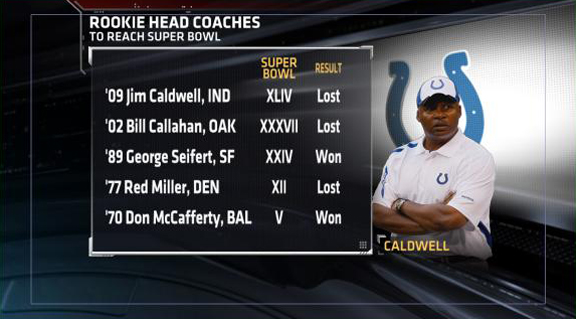 HARD KNOCKS: First-year head coach Jim Caldwell and the Colts come up short in their bid to win a second Super Bowl in the last four seasons. Rookie NFL head coaches are now 2-3 when reaching the Super Bowl in their first season. You have to go back 20 years to George Seifert and the 1989 49ers to find the last head coach to win the Super Bowl in his first season. The Colts franchise falls to 2-2 in super bowls and all of them have been played in South Florida.
SURE THING: There were three lead changes in the Saints' victory, for a total of nine in the past three Super Bowls (four in Giants-Patriots, two in Steelers-Cardinals). That equals the total number of lead changes in the previous 10 Super Bowls combined. Last night, the Saints were down a point with 5:42 left, Drew Brees hits Jeremy Shockey with a 2-yard pass to give the Saints a lead they would never relinquish. Lets take a look at some notable game-winning scores late in Super Bowl history:
In Super Bowl XXIII, with the 49ers trailing the Bengals 16-13, Joe Montana hit John Taylor for with a 10-yard TD pass with 34 seconds left as the niners won 20-16.
In Super Bowl XLII, with the Giants trailing the unbeaten Patriots 14-10, Eli Manning found Plaxico Burress for a 13-yard touchdown pass with 35 seconds left to give the Giants a 17-14 victory.
Last year in Super Bowl XLIII, Steelers down 23-20, Santonio Holmes makes a great catch of 6-yard pass from Ben Roethlisberger with 35 seconds left to give the Steelers a 27-23 victory over the Cardinals.
And who could forget, Super Bowl XXVI Adam Vinatieri's 48-yard field goal as time expired gave the New England Patriots their first Super Bowl title. He also did it again in Super Bowl XXXVIII, kicking a 41-yard field goal with 4 seconds remaining as the Patriots won their second Super Bowl in three seasons.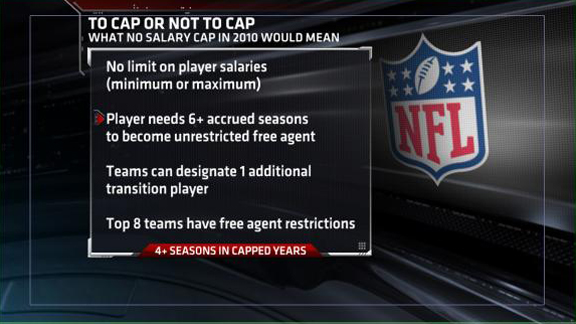 CAPPING THE NEW YEAR: Barring an unlikely new collective bargaining agreement put in place before free agency begins on March 5th, 2010 will be an uncapped year. That means there will no minimum or maximum salaries for teams, only players with at least 6 seasons of service can be unrestricted free agents, where it's normally 4. Teams will be allowed to lock up an additional player with a transitional tag and the final 8 playoff teams this year, such as the Saints, Colts, Cowboys and Chargers, will have free agency restrictions. The Saints don't have much time to celebrate with some notable free agents getting ready to hit the market.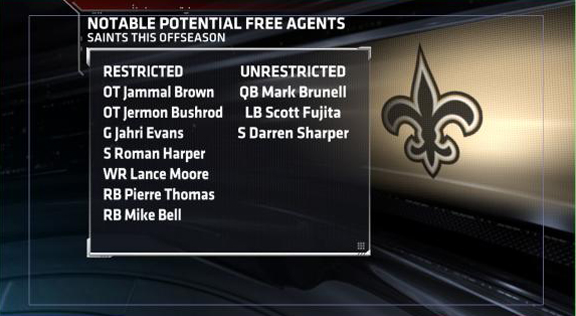 SHOW ME THE MONEY: Now that the Saints are Super Bowl champs, the team needs to address more than 50 percent of the players on the roster who have contracts that expire after the Super Bowl. They have 18 restricted free agents and 11 unrestricted free agents. Among the notable restricted free agents - running back Pierre Thomas and Mike Bell. The notable unrestricted players are Darren Sharper, Scott Fujita and Mark Brunell.
ONE AND DONE?: Las Vegas has already weighed in with next years Super Bowl odds and the Colts are the favorite to win Super Bowl XLV in Dallas. You can see where you team stands here.
Team-Odds
1.) Indianapolis Colts 13-2
2.) New Orleans Saints 7-1
3.) Dallas Cowboys 15-2
4.) New England Patriots 17-2
5.) San Diego Chargers 17-2
Source: Las Vegas Sports Consultants
Note: The Elias Sports Bureau and ESPN Stats and Information group contributed to this report.