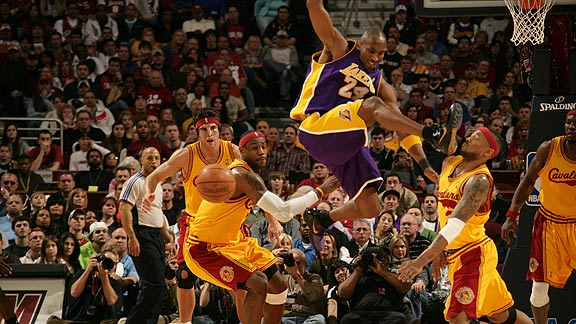 David Liam Kyle/Getty Images
"Mo Williams, you have offended my family and you have offended the Shaolin Temple."
As part of the rollout for the Zoom Kobe V Bruce Lee variants, Nike mocked up some posters of Bryant doing his best impressions of cinema's most famous martial arts master. The shoes themselves are rockin' a yellow and black jumpsuit motif from "Game of Death" (most recently popularized by Uma Thurman's get-up in "Kill Bill Vol. 1"). There are also three red scratch marks reminiscent of the cuts inflicted by Han in "Enter the Dragon." Don't miss the results in all their heavenly glory:
Bryant immediately asked for a new arm tattoo after mistaking the characters for "kung fu" over his shoulder as "Kobe."
What's deadlier than the Black Mamba Fist? Apparently the dreaded Zoom-chucks.
Jeet Kune Do? More like Feet in Low(tops).
Kobe works up a sweat demonstrating his ultimate technique, the Three-Inch Lace.
The special edition shoes went on sale at select locations on February 6. In case you missed your first shot and don't want to get gouged right now, the kicks go into wider release sometime this Spring/Summer.