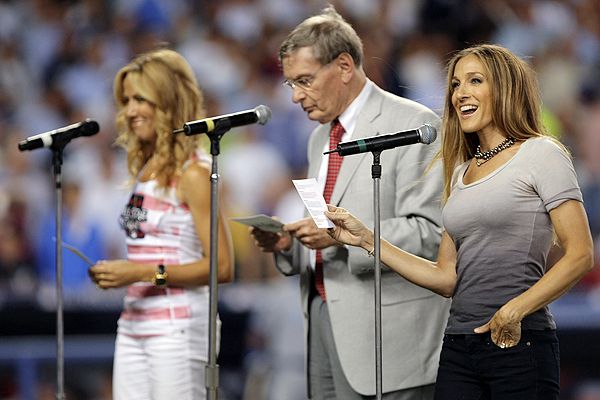 William Perlman/The Star-Ledger/US Presswire
"Hello ladies. Did you know I introduced revenue sharing?"
Bud Selig is about to get his very own statue in Milwaukee's Miller Park, a celebration of the current MLB commish and former Brewers owner for his efforts on behalf of the team and the league. And aside from a few obligatory pigeon poop comments the response has been pretty positive, mostly centered around the whole "no Bud Selig, no baseball in Milwaukee" argument.
The 7-plus-foot statue, which will be unveiled Aug. 24, will sit alongside statues of Hank Aaron and Robin Yount in an effort to turn Miller Park's Home Plate Plaza into something of a Madame Tussauds of the Midwest. But what kind of a collection is only three statues? We need more. Aside from the obvious suggestions of guys like Paul Molitor and Cecil Cooper, we can think of a few other folks who deserved to be honored with a big, bronzed version of themselves.
Play-by-play legend (and former Milwaukee Braves catcher) Bob Uecker is an obvious choice. We're thinking a 15-foot Uecker sitting in front of a microphone would just about do it. And let's not go with plain bronze for this one. Perhaps something in a ceramic, so Bob's plaid blazers could be painted on in an array of eye-pleasing colors. And it needs to be interactive, of course. Fans can press a button and hear various Uecker quotes like, "Well, a couple of grand slammers and the Brewers are right back in this one," or " Juuuuuuuust a bit outside." Other possible positions could include Uecker on the Tonight Show set with Johnny Carson (he was on the show 64 times) or in a Miller Lite commercial. Basically anything that doesn't depict him actually playing.
Another suggestion? We'd like to see a statue of Rollie Fingers. You know, Fingers. Played for the Brewers from 1981-85, won the AL MVP and Cy Young Award in 1981 and basically redefined relief pitching? More specifically, we'd like to see a statue of Rollie Fingers' moustache. We don't really care about the dimensions of the statue as a whole, as long as Rollie's sweet handlebar is big enough for kids to hang from and swing like they're on monkey bars.
Now that we have some of the key Brewers' personalities covered, let's branch out and celebrate the city. How about a pose from the scene in "Wayne's World" where Alice Cooper talks and talks and talks about Milwaukee. Did you know Milwaukee's actually pronounced Mili-wah-que, which is Algonquin for "the good land." Fun and informative. Not a fan of Alice Cooper's musical stylings? How about Liberace? Can you believe he's from Milwaukee?! If you gave us 100 guesses, we never would have come close to that answer.
In keeping with the Milwaukee in the entertainment biz theme, why not a giant milk and Pepsi statue? As an ode to Laverne's favorite drink from Laverne & Shirley. The city already has a life-sized, bronze statue of the Fonz, so it totally makes sense. Plus, it could also serve as a drink machine, dispensing - what else? - Pepsi and milk. Yum and yum.