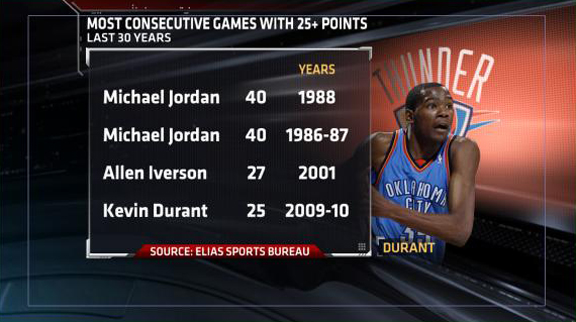 Thunder 89, Trail Blazers 77
The Thunder improved to 15-11 on the road this season, with their 15 wins matching their total from the previous 2 seasons combined. Kevin Durant scored the 5,000th point of his NBA career on Tuesday, becoming the second-youngest player in NBA history to reach the milestone. LeBron James is the youngest to do it; both he and Durant were 21 when they hit the mark but James bested Durant by 111 days. Durant becomes just the third different player in the last 30 years to score 25 or more points in at least 25 straight games. Allen Iverson was the last to do it - back in his MVP season of 2001 - and Michael Jordan had a pair of 40-game streaks in the mid 80's.
After the jump,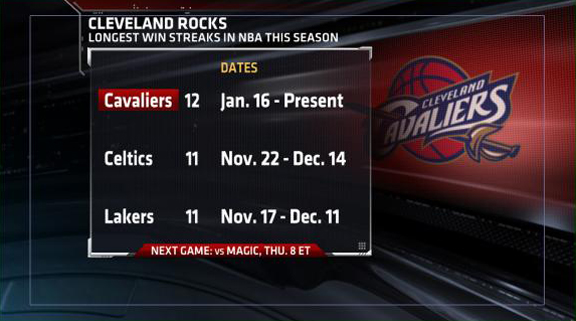 CAVS STREAKING: The Cavs ran their win streak to 12 games, the longest win streak in the NBA this season and one game shy of their longest win streak since drafting LeBron James. James went off for his 6th 30-point, 10-assist game of the season. Only Dwyane Wade (4) has more than two such games on the season. Jawad Williams, a career 3.1 PPG scorer, scored a career-high 17. Cleveland has won all three meetings with the Nets this season (one left to be played), though only by an average of 8.3 PPG. The Nets have lost 7 straight overall and 7 straight meetings with the Cavaliers.
More: LeBron Nets 32, Cavs Win 12th In A Row | NBA Standings
------------------------------------------------------
ON THE COLLEGE HARDWOOD:
------------------------------------------------------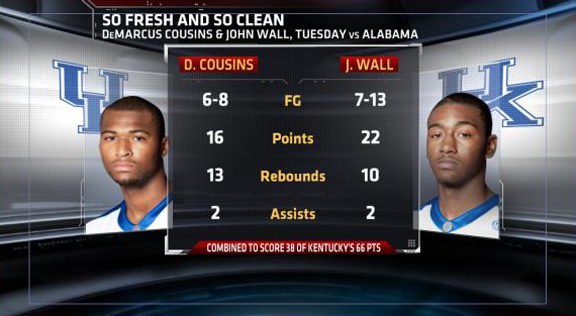 DOUBLE TROUBLE: Kentucky gets double-doubles from DeMarcus Cousins and John Wall, the second time they've each had a double-double in the same game. It was Wall's first career double-double that included rebounds; his previous career high on the glass was 7. Wall and Cousins outscored the rest of their team 38-28 and outrebounded them 23-17. Alabama was held to a season-low 33.3 percent field goal shooting. Kentucky is 4-0 since it's lone loss of the season (South Carolina 68-62), winning all four games by double-digits.
More: Box Score | Game Cast | Cats Improve to 23-1, Beat Bama | Off Night For Big Blue, Still Get 'W'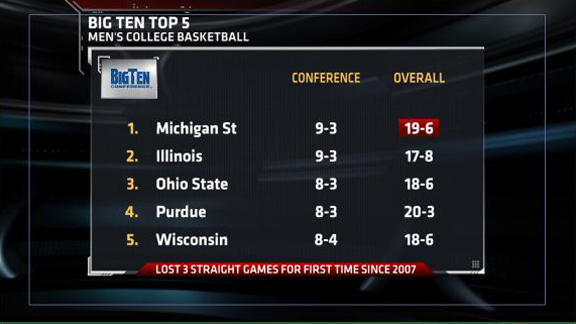 An Illinois win, coupled with Michigan State's third straight loss, means the Illini are now tied with the Spartans atop the Big 10. Ohio State and Purdue, remain a win back of 1st place. Heard our Jay Bilas say on SportCenter that Ohio State has the strongest starting five in the conference and the best player - Evan Turner. Here's a recap of Purdue and Illinois victories last night:
(6) Purdue 76, (10) Michigan State 64
E'Twaun Moore scored a season-high 25 points as Purdue won in East Lansing for the 1st time since 1998. The Boilermakers scored 47 points and shot over 65% from the field in the 1st half to take a 14-point lead. JaJuan Johnson had 19 points and Robbie Hummel added 15. Chris Allen scored 21 points to lead the Spartans. Kalin Lucas scored 12 points on 2 of 5 shooting and played 29 minutes, after missing the last game and a half with an ankle injury. Draymond Green went 1-13 from the field despite leading the Big Ten in field goal percentage at 59.4%. Michigan State has lost 3 straight games for the 1st time since losing 4 straight in the 2006-07 season. Purdue shot 56.8% from the field. They are the 3rd straight team to shoot over 50% vs Michigan State. The Big Ten now has 4 teams with 3 losses (Michigan State, Illinois, Purdue, Ohio State).
More: Box Score | Game Cast | The Morning After: Big Ten In Flux | Stop The Bleeding
Illinois 63, (13) Wisconsin 56
After trailing at the half, Illinois outscored Wisconsin by 9 in the 2nd to win back-to-back games vs ranked opponents for the first time since the 2004-05 season. The Illini snap a 2-game losing streak at Wisconsin and won on the road vs a conference opponent for just the 3rd time in their last 9 games. Following up his 22-point performance in the win vs Michigan State, Demetri McCamey led Illinois with 27 points, his 2nd highest total this season. The loss for Wisconsin is the first against an unranked conference opponent under Bo Ryan (51-1). The Badgers had won 18 straight home games overall and 10 straight at home vs Big Ten opponents. Jason Bohannon finished with a team-high 15 points in the loss.
More: Box Score | Game Cast | Now The Illini Are Cooking | Illinois Basketball Rankings | Badgers Go Cold Late
------------------------------------------------------
NATIONAL FOOTBALL LEAGUE:
------------------------------------------------------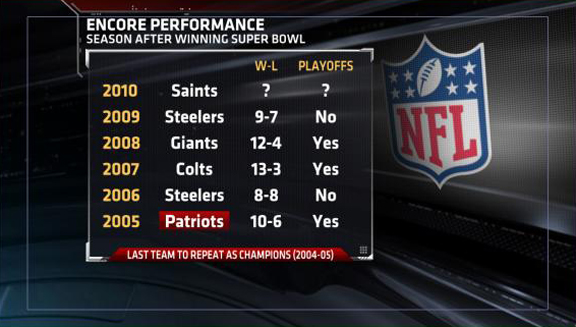 BACK FOR MORE: The world champs are still parading around New Orleans celebrating their Super Bowl victory. If recent trends continue the Saints have a good chance to make it back to the playoffs for another Super Bowl run. Only the Steelers in 2006 and 2009 failed to make the playoffs following their championship season. The last team to repeat as champs? The Patriots in 2004 and '05. Who Dat?
While the Saints celebrate, the rest of the League is getting back to business. Left tackle is not a glamour position but Walter Jones is as pretty as they come. Last weekend the 6x All-Pro Tweeted about it being time for him to retire. Seattle's fortunes appear to have mirrored Jones' heath. The Seahawks have posted an ugly 9-23 since the start of the 2008-season, which is about the time Jones knee started aching. 'Hawks new offensive coordinator Jeremy Bates says when Jones is playing you don't have to worry about the other team's defensive end, which brings us to another team's defensive end, Carolina's Julius Peppers: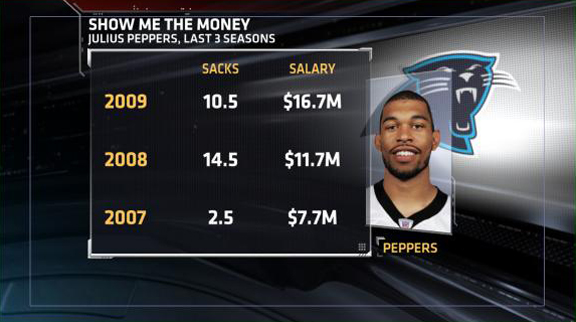 MORE MONEY $$$: Julius Peppers told a radio station in Charlotte that he's upset by the Panthers' "silence" and he no longer wants to sign a long-term deal with Carolina. Peppers, who turned 30 on January 18, has 81 career sacks. The only active NFL player who had more sacks before his 30th birthday than Peppers is Dwight Freeney (84), who turns 30 later this month. Peppers was the highest paid player in football this past season and he responded with his 6th career 10-sack season. Franchise tagged by the Panthers the last two seasons, Peppers has seen his salary jump, going from 7.7 million in 2007 to 11.7 million in 2008 and then to 16.7 million in 2009. While Peppers looks to get a long term deal from a new team, Eagles running back Brian Westbrook's career might be winding down.
More: Peppers Started Packing His Bags Long Ago | Peppers Fed Up With Panthers | Julius Peppers Wants Out; The Falcons Shouldn't Touch Him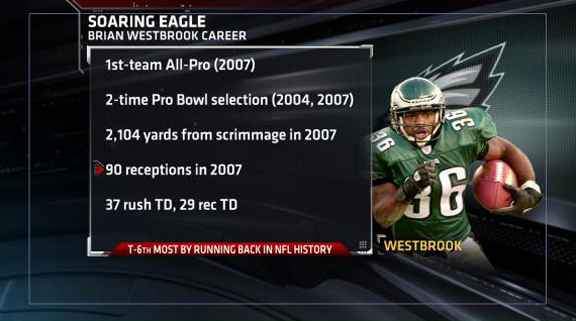 END OF AN ERA?: Brian Westbrook says there's no question in his mind that Donovan McNabb will be back with the Eagles, but the question is will Westbrook be back after the beating his head took last season. The running back suffered two concussions, causing him to miss 8 games. Those hits and a knee injury have the 30-year old thinking about retirement. Westbrook, who is owed $7.25 million next season, has had a stellar 8-year career in Philadelphia. He was a 1st team All-Pro selection in 2007 and a 2-time Pro Bowler. His 2,104 yards from scrimmage led the NFL in 2007, but in 8 games last season he had just 274 yards rushing and 181 yards receiving.
More: Radio Interview Westbrook Speaks About The Dangers Of Concussions
Note: The Elias Sports Bureau and ESPN Stats and Information Group contributed to this report.